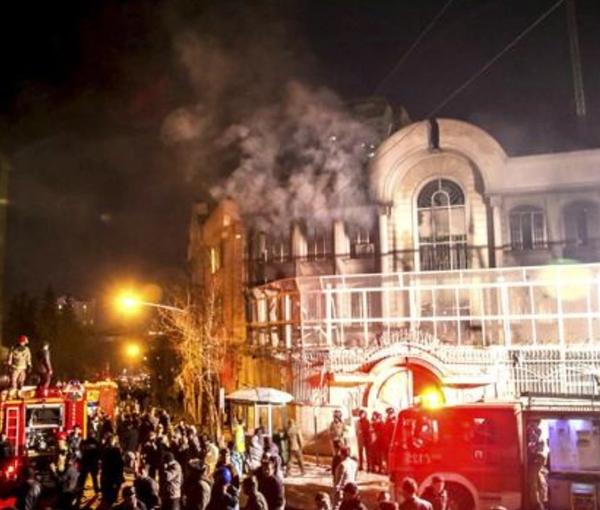 Iran-Saudi Deal To Resume Ties Stirs Controversy In Iran
Tehran's deal to resume relations with Saudis has stirred controversy in Iranian political circles as reform politicians and media expose "hypocrisy" of hardliners.
Hossein Shariatmadari, the hardliner editor of Kayhan, who has been harshly criticized for changing his positions on the issue of relations between Tehran and Riyadh, has accused reformists of not understanding the agreement.
Shariatmadari who had shunned ties with Riyadh in 2016 as "a stigma for the Islamic Iran," changed his position to praising the recent agreement as "a hard blow to the United States and Israel." Reformist media have accused Shariatmadari of "defying his own principles."
Shariatmadari said he was happy about the agreement because unlike the previous government of Iran, he believes that regional disputes should be solved by regional states without America's intervention. However, he ignored China's role in brokering the new deal.
Meanwhile, Shariatmadari, who always likes to pretend he has exclusive access to behind-the-scenes developments, wrote elsewhere in Kayhan that the state television and other media outlets have to turn a blind eye on certain developments to serve the government's interests and to prevent foreigners from taking advantage of certain news.
Iranian ultra-conservative ideologue, Hossein Shariatmadari
In other reports on Iran, the media have reminded officials, such as President Ebrahim Raisi, of their changing views about what they had said against Saudi Arabia. Social media users posted the screenshot of quotes from Raisi in a January 4, 2016 report one day after Iranian government-led vigilante groups attacked Saudi diplomatic buildings in Iran and set fire to them, that "Iran does not need relations with Saudi Arabia." Raisi, who was then Iran's Public Prosecutor, accused Saudi Arabia of harboring and "feeding" Salafists, and characterized it as "a cancerous tumor in the region."
While other media appear to be cautiously upbeat about the agreement with Saudi Arabia, reports say that the state television continues beating on the drums of creating tensions between Tehran and Riyadh. Abdollah Ramezanzadeh, the former governor-general of Iran's Kordestan Province and an aide to former reformist President Mohammad Khatami wrote in a March 11 tweet: "Infiltrators at the state television have started programs on the national TV to prevent the Iran-Saudi agreement to come to fruition."
Ali Foroughi, alleged leader of vigilantes who attacked the Saudi embassy
This comes while, Ali Foroughi, a vigilante group leader who was involved in the attacks on Saudi and British embassies in Iran and is now the head of the state television's Channel 3, has been accused on social media of politically benefitting from the disruption in the Tehran-Riyadh ties.
Some other social media users are adamant that the agreement is not about Iran, but it is rather about a guarantee that China's huge investments and trade interests in Saudi Arabia and elsewhere in the region remain safe from Iran's adventurism.
Other reports from Iran speculate about why Security Chief Shamkhani signed the deal in Beijing rather than foreign minister Hossein Amir-Abdollahian who apparently was visiting quake-stricken areas in Syria as Shamkhani was negotiating in China. According to Rouydad24 website, it turns out that the decision to sign the agreement in China had nothing to do with the Foreign Ministry and orders for Shamkhani came from a higher authority, presumably Supreme Leader Ali Khamenei, albeit without naming him.
Khamenei traditionally never makes any public commitment about anything to make sure that he can evade responsibility if things do not work out well.
In the meantime, news came to indicate that Amir-Abdollahian has not been idle and that he was in fact negotiating the terms of releasing US hostages, aka known as US citizens wrongly detained in Iran. However, shortly after the Iranian Foreign Minister's claim, Washington denied his statement about an agreement between Iran and the United States on a prisoner swap.