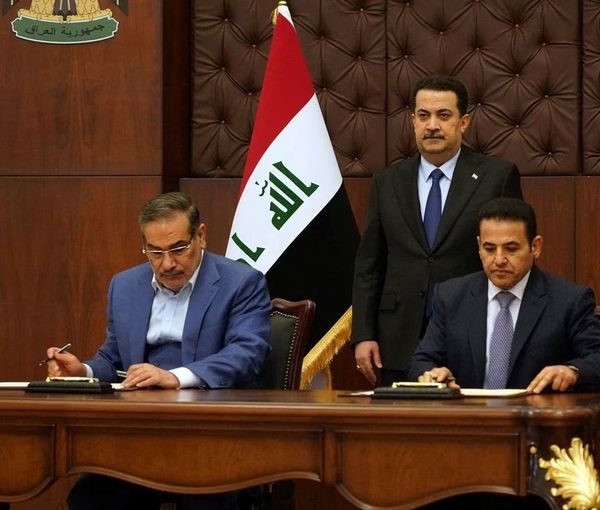 Iran, Iraq Sign Agreement To Crack Down On Kurds
Iran's top security official signed an agreement with his Iraqi counterpart Sunday in a deal aimed at curbing activities of Kurdish militants.
The secretary of Iran's Supreme National Security Council (SNSC) Ali Shamkhani and his Iraqi counterpart, Qassim al-Araji inked the joint security cooperation document during a ceremony also attended by Prime Minister Mohammed Shia' Al Sudani in Baghdad.
A statement from the Iraqi prime minister's office said that the joint security agreement includes coordination in "protecting the common borders between the two countries and consolidating cooperation in several security fields."
A spokesperson said, "Under the signed security deal, Iraq pledges it will not allow armed groups to use its territory in the Iraqi Kurdish region to launch any border-crossing attacks on neighbor Iran."
Iraqi Prime Minister Mohammed Shia al-Sudani meets with Iran's Supreme National Security Council secretary Ali Shamkhani, in Baghdad, Iraq, March 19, 2023.

The frontier came into renewed focus last year when Iran's Revolutionary Guards launched missile and drone attacks against Iranian Kurdish groups based in northern Iraq, accusing them of fomenting protests that were sparked by the death of an Iranian Kurdish woman, Mahsa Amini, while she was being held in morality police custody.
Nour News, a media outlet close to the SNSC, said earlier in the day that the deal would facilitate efforts to deal with problematic Kurdish groups that coordinate measures against the Islamic Republic along with Israeli agents and armed insurgents.
The Islamic Republic calls Iranian Kurdish armed groups sheltering in Iraq, "terrorist groups" but these groups say that the goal of their armed campaign is "defending the rights of the Kurds".
Generally, the Kurdish parties − including Komala and the Kurdistan Democratic Party of Iran (KDPI) − favor Kurdish autonomy within a federal Iran. Pejak (the Free Life Party of Kurdistan), an affiliate of the Kurdistan Workers' Party, or PKK, formed in Turkey but also based in northern Iraq, has generally favored a unified, independent Kurdistan uniting Kurds in Syria, Iraq, Turkey, and Iran.
Shamkhani is also scheduled to hold talks with Masrour Barzani, the Prime Minister of the Iraqi Kurdistan Region, on the issue of border security.
Shamkhani and the Iranian delegation also paid a visit to the site where IRGC's Quds (Qods) force commander Qassem Soleimani and Abu Mahdi al-Muhandis, the second-in-command of Iraq's Popular Mobilization Units, were killed by a US drone attack three years ago.
Iran claims that US interference in the region has been creating regional unrest, its sanctions driving a domestic crisis. Shamkhani said this "can no longer be tolerated".
During the meeting with his counterpart, Shamkhani acknowledge the role played by the Iraqi negotiating team which, along with Oman and China, brokered a détente between Tehran and Riyadh.
Shamkhani's trip to Baghdad follows his landmark trips to China and the United Arab Emirates earlier this month as part of the Islamic Republic's renewed zeal to revive ties with regional neighbors and deepen relations with its global allies, indicating that Supreme Leader Ali Khamenei is relying more on his representative for high-profile missions than the country's Foreign Minister Hossein Amir-Abdollahian. The Secretary of the Supreme National Security Council is nominally appointed by the president, but he also serves as Khamenei's representative in the Council. 
Iraq's National Security Adviser Qasim al-Araji looks on as Iraqi Prime Minister Mohammed Shia al-Sudani greets Iran's Supreme National Security Council secretary Ali Shamkhani during a signing of the security agreement that includes coordination in protecting the common borders between the two countries, in Baghdad, Iraq, March 19, 2023.
Khamenei's decision to send Shamkhani to Beijing showed that in serious matters he needs a more qualified official than hardliners populating the current presidential administration. In fact, Rouydad24, a reformist news website in Tehran pointed out Saturday that hardliners have been trying to tarnish Shamkhani's image, by leaking information that one of his former aides, Alireza Akbari, was executed in January for espionage. Rumors also circulated in February and March that he was about to be dismissed following the news about his aide. As a close ally of former President Hassan Rouhani, hardliners would like to see an ultra-conservative take over the key role which critics say he retained due to his being a member of Khameini's trusted circle.
Although the 83-year old dictator made sure ultra-conservatives loyal to him take the absolute majority in parliament and the presidency in 2020 and 2021 respectively, he knows there are few qualified people among them, and at least in the realm of key foreign policy issues he makes sure his direct representatives are more balanced and experienced officials. This also brings up the question of why he entrusted the nuclear negotiations to people more associated with the ultra-conservatives.
In a move to assert his role, Amir-Abdollahian said on Sunday he will soon meet his Saudi counterpart Faisal bin Farhan Al Saud as negotiations to reopen embassies and consulates in the two countries, continue.