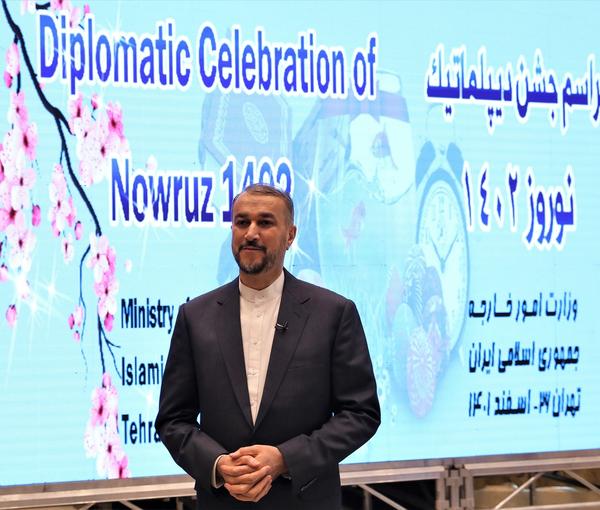 Iran's Foreign Minister Left Out Of Regional Diplomacy
A tweet by Iran's foreign minister saying there is full coordination in foreign relations has led to further speculation about his absence in diplomatic missions.
Hossein Amir-Abdollahian did not accompany national security chief Ali Shamkhani to Beijing earlier this month to sign an agreement with Saudi Arabia to restore relations. He was also absent from Shamkhani's follow-up visit to the United Arab Emirates on Thursday. Shamkhani is also scheduled to visit Iraq to sign what is said to be an economic agreement, but it certainly a trip related to the push by the regime to take maximum advantage of the momentum created by the agreement to restore ties with Riyadh.
The foreign minister posted an unusual tweet Friday that "Foreign policy is coordinated. Everything is within the framework of the system, supervision by President. Enemies should know: there is no discord."
While some had raised eyebrows when Amir-Abdollahian was absent in Beijing and Abu Dhabi, this tweet led to both criticism and ridicule by Iranians on social media and even negative comments on websites in Iran not run by the government.
Many readers observed that there was no need to mention the word "coordination" several times in the Persian version of the tweet. They said it simply convinced them that the foreign minister is powerless and sidelined when it comes to major foreign policy initiatives. It should be also noted that Amir-Abdollahian has specialized in regional issues and relations with Arab states.
Iran's Supreme National Security Council secretary Ali Shamkhani (left) and UAE Vice President Mohammed bin Rashid Al Maktoum (center)
The Secretary of the Supreme National Security Council, is nominally appointed by the President, but he is also Supreme Leader Ali Khamenei's representative in the Council. The regime decided to give Shamkhani the high-profile mission of signing an agreement with the Saudis and the Chinese, instead of Amir-Abdollahian.
This was perhaps a message that Khamenei is making a commitment – not the government of President Ebrahim Raisi, that everyone knows does not call the shots in foreign policy.
But in one way or another, Khamenei's decision to send Shamkhani to Beijing showed that in serious matters he needs a more qualified official than hardliners populating the current presidential administration. In fact, Rouydad24, a reformist news website in Tehran pointed out Saturday that hardliners have been trying to tarnish Shamkhani's image, by leaking information that one of his former aides, Alireza Akbari, was executed in January for espionage.
Rumors also circulated in February and March that he was about to be dismissed following the news about his aide. Afterall, Shamkhani is a holdover from President Hassan Rouhani's days and hardliners would like to see an ultra-conservative take his important job. The only reason he has stayed in the security council is that Khamenei prefers him.
Although the 83-year old ruler made sure ultra-conservatives loyal to him take the absolute majority in parliament and also the presidency in 2020 and 2021 respectively, he knows there are few qualified people among them, and at least in the realm of key foreign policy issues he makes sure his direct representatives are more balanced and experienced officials.
This also brings up the question of why he entrusted the nuclear negotiations to people more associated with the ultra-conservatives. We simply do not have a clear answer yet.