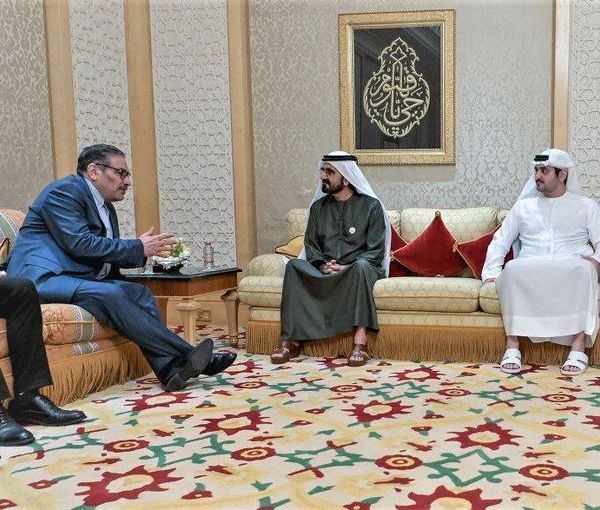 Iran Continues To Praise Good Relations With Arab Neighbors
Iran will push forward at rapid speed as it forges better relations with its Arab neighbors following the recent agreement to restore ties with Saudi Arabia, according to the regime.
In a glowing article published Friday, IRNA, the state news agency, portrays the agreement with Saudi Arabia, signed a week ago in Beijing, as a historical event that heralds a new era in the Middle East.
Iran's national security chief Ali Shamkhani, an old IRGC hand, visited the United Arab Emirates Thursday and met with members of its top leadership. However so far, there is no concrete information about details of the discussions in UAE and Iranian media.
IRNA, however, said the visit shows that once Tehran and Riyadh embark on rapprochement, Saudi allies would follow and "foreign influence" will be reduced in the region, implicitly referring to the United States.
Shamkhani met with UAE President Sheikh Mohammed bin Rashid and ruler of Dubai and other top officials Thursday. "Their talks covered regional and international issues of mutual concern, and the importance of working to support peace and co-operation in the region to enable progress and prosperity for its people," state news agency Wam reported.
Iranian media have hinted that Shamkhani's agenda included discussions with the UAE to help Iran overcome some of the impact of US economic sanctions, as the regional trade and banking hub.
Iran has already been using middlemen and contacts in the UAE to facilitate its illicit oil trade and money laundering efforts. But any official commitment by the UAE is hard to imagine given the potential violation of US sanctions.
Reuters quoted two unnamed Iranian officials Thursday as saying that last September, Iran's Supreme Leader Ali Khamenei lost patience with the slow pace of bilateral talks with Riyadh and summoned his team to discuss ways to accelerate the process, which led to China's involvement.
This would mean a complete about-face by Khamenei whose zealous followers attacked the Saudi embassy in Tehran in January 2016, an incident that led Riyadh to cut diplomatic ties.
Attack on Saudi Arabia's embassy in Tehran in January 2016
Khamenei and other senior clerics have over the years repeatedly castigated the Saudi ruling family as lackeys of the United States who were harming the interests of Muslims. Khamenei has so far been silent on the agreement with Riyadh, but he is scheduled to address the nation next Tuesday on the Iranian New Year, Nowruz.
Other reports have indicated a more forceful Chinese role in persuading Tehran to offer guarantees to Riyadh to facilitate normalization.
The Wall Street Journal reported Friday that Tehran has pledged not to send arms to Yemen's Houthis who have been fighting Saudi-led forces for nearly a decade, quoting US and Saudi officials.
Yemen is clearly the most immediate issue the Saudis want to see resolved, as without Iran's military backing, the Houthis have to show flexibility and perhaps conclude a peace agreement in the war-torn country.
An interesting part of the report by IRNA is the reference to popular protests that erupted last September after the death of Mahsa Amini in 'hijab police' custody. IRNA says that good relations with neighbors will help derail enemy plans to destabilize the Islamic Republic, repeating accusations that protests were part of a Western conspiracy.
It also emphasizes the need for a "rational" foreign policy, a term so far used by critics of the hardliners in full control of the government. It says the deal with Saudi Arabia and Shamkhani's trip to the UAE can help calm the domestic political scene. These comments clearly show how far the regime has been shaken by the popular protests and how extending a hand to its Arab neighbors is now more a necessity than choice.