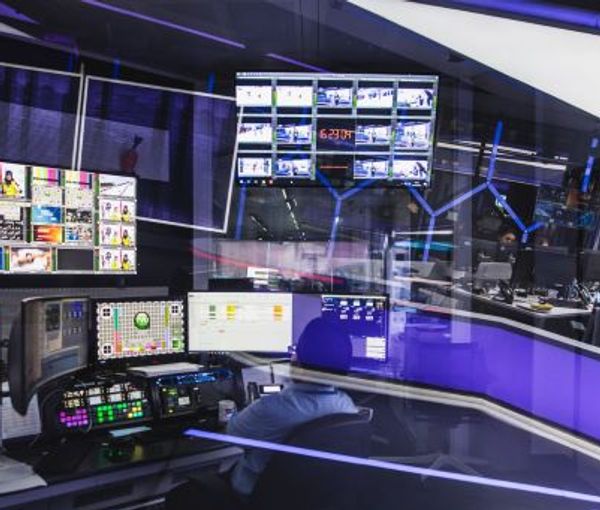 Terror Threats Force Persian TV Channel To Close London Studios
After a significant escalation in state-backed threats from Iran and advice from the Metropolitan Police, Iran International TV says it has reluctantly closed its London studios and moved broadcasting to Washington DC.
The station will continue to operate from its offices in Washington DC uninterrupted.
Threats had grown to the point that it was felt it was no longer possible to protect the channel's staff, other employees at Chiswick Business Park and the general public.
Iran International was warned by authorities in November that its journalists were under threat from Iranian agents and the Metropolitan Police took measures to strengthen security around the network's office in the area.
The channel's broadcasts have gained special significance since popular anti-regime protests broke out in Iran last September. Iranian officials have repeatedly threatened Iran International and other Persian broadcasters based abroad since the start of protests when the government blocked the Internet to deny the population news and information.
Amid repeated threats by the Islamic Republic against Iran International's reporters, the UK government vowed in December to step up protection of London-based Iranian journalists.
British Foreign Minister James Cleverly said during a session in Parliament on December 13 that the Foreign and Commonwealth Development Office (FCDO), in partnership with the Home Office, had ensured that the Iranian journalists were protected by the British police.
"The UK remains absolutely determined to ensure that Iran does not intimidate people within this country. We will always stand up to the aggression from foreign nations," he noted, adding, "We will absolutely not tolerate threats, particularly towards journalists who are highlighting what is going on in Iran, or indeed any other individual living in the UK."
A man was arrested in the vicinity of Iran International's headquarters last Saturday and charged with a terrorism offence. He pleaded not guilty in a court session on Tuesday.
Mahmood Enayat, General Manager of Iran International TV, said after the decision to move broadcasting to Washington:
"I cannot believe it has come to this. A foreign state has caused such a significant threat to the British public on British soil that we have to move. Let's be clear this is not just a threat to our TV station but the British Public at large. Even more this is an assault on the values of sovereignty, security and free speech that the UK has always held dear.
Day and night our journalists strive to deliver the 85mn people of Iran and its diaspora the independent, uncensored news they deserve.
We refuse to be silenced by these cowardly threats. We will continue to broadcast.
We are undeterred."