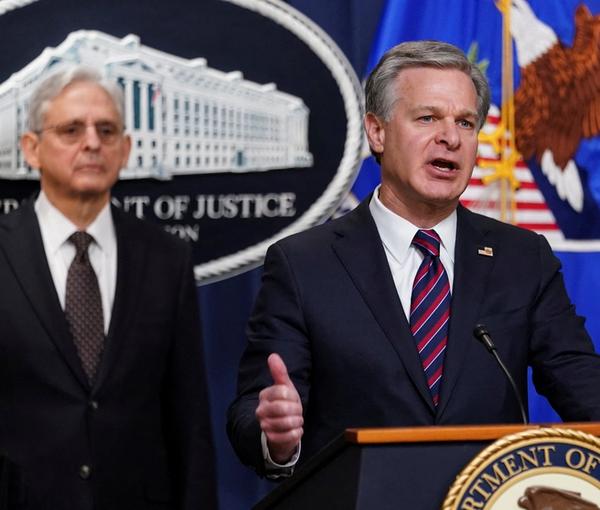 US Charges Three In Iran-Backed Plot To Assassinate Journalist
The US charged three men with conspiring to assassinate a New-York based dissident Iranian activist and journalist, the Justice Department announced Friday.
Prosecutors have charged three members of an Eastern European criminal organization with ties to Iran's government with conspiring to assassinate a journalist and activist who is an American citizen, Attorney General Merrick Garland said on Friday.
Rafat Amirov, Polad Omarov and Khalid Mehdiyev were charged with murder-for-hire and money laundering for their role in the thwarted Tehran-backed plot, the Department of Justice said in a statement.
Iranian dissident journalist Masih Alinejad
"The victim publicized (the) Iranian government's human rights abuses, discriminatory treatment of women, suppression of democratic participation and expression and use of arbitrary imprisonment, torture and execution," Garland said.
Garland did not name the alleged victim, but Mehdiyev was arrested last year in New York for having a rifle outside the Brooklyn home of journalist Masih Alinejad, a longtime critic of Iran's forced hijab laws who has promoted videos of women violating those laws on social media.
Alinejad has also emerged as a prominent representative of the protest movement that has posed the most serious challenge to the Islamic Republic in its 44-year history.
The female activist was the target of an earlier plot in 2021, when US law enforcement informed her of an Iranian plot to kidnap her and take her to Venezuela for eventual transfer to Iran, where she should have faced certain execution.
"This is the second time in the past two years that this Office and our partners at the FBI have disrupted plots originating from within Iran to kidnap or kill this victim for the 'crime' of exercising the right to free speech, to independent political thought, and to advocating for the rights of the oppressed and disenfranchised inside Iran," US Attorney Damian Williams said.
Iran has assassinated or kidnapped hundreds of opponents abroad in its four-decade history. Germany, France, Turkey and Iraq were among countries where Iranian intelligence conducted many deadly operations against opponents.
Amirov was arrested on Thursday and will have a pretrial hearing in federal court in Manhattan later on Friday. Omarov was arrested in the Czech Republic earlier this month.