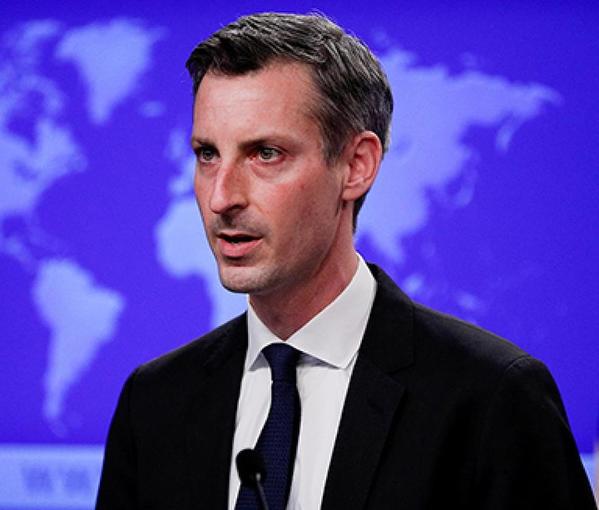 US Says 'Robustly Engaged' With China To Curtail Iranian Oil Sales
The United Sates is "robustly engaged" with enforcing sanctions on Iran and regularly engages with China to discourage violations, the State Department said Tuesday.
"As Iran's largest oil customer, the PRC remains a top focus for our sanctions enforcement," State Department spokesperson Ned Price said in a briefing with reporters.
For two years, the department has stayed low-key on the issue of China violating US oil sanctions on Iran and buying ever-increasing volumes of crude oil at discounted prices.
"We don't preview potential sanctions actions, but we continue to monitor Iran's oil exports and to engage Iran's trading partners about the possibility of exposure to US sanctions," Price added.
But these efforts and engagements with different countries have not been effective as Iran increased its oil exports from around 250,000 barrels per day in 2019 to more than one million, according to estimates. For some reason, China was buying less than 200,000 barrels a day during the Trump administration, while in 2022 it was buying around 700,000 barrels to most industry estimates.
Neither China nor Iran announce the volume of their oil trade, which takes place through intermediaries who make tanker-to-tanker oil transfers, mix cargoes, and forge documents to hide the source of the oil.
Chinese imports from Iran began to increase in late 2020, exactly when candidate Joe Biden in September of that year announced his plans to return to the Obama-era Iran nuclear deal, which Trump had abandoned two years earlier.
The new administration began indirect negotiations with Iran in April 2021, and China, as a signatory of the 2015 deal known as the JCPOA, was part of the talks in Vienna. From all appearances, Iran dragged out the talks for 18 months and in the end refused to accept a compromise deal put on the table by the European Union.
In the meantime, Tehran was selling ever-increasing volumes of oil to Chinese refineries and making tens of billions of dollars.
At the same time, the Biden administration was signaling that sanctions imposed by its predecessor were not effective to force Iran to curtail its nuclear program, and they should be lifted to revive the JCPOA. At the same time, the administration kept the sanctions on the books to put pressure on Tehran and occasionally announced sanctions on individuals and companies caught red-handed in facilitating sanctions' violations.
"We, during the course of this administration, have levied multiple tranches of designations targeting Iran's illicit petroleum and petrochemical trade over the past year or so," Price said on Tuesday.
But to what extent there was serious pressure on Beijing, is not clear. It seems that the administration now admits its efforts have been ineffective and it intends to increase that pressure.
The new focus began only when the nuclear talks came to a halt in September, just when popular protests broke out in Iran that were met with a brutal and deadly government response that became world headlines.
The administration changed its tune in October, saying that it is no longer focused on JCPOA and its attention is on the struggle of the Iranian people who were demanding their basic rights. Price reiterated the new policy once again on Tuesday, admitting that Iranians "renege on commitments, and "This was a pattern that we'd seen from Iran."
Another factor that left little option for the Biden team except adopting a tougher posture was Iran's delivery of kamikaze drones to Russia that have been used against civilian targets in Ukraine.