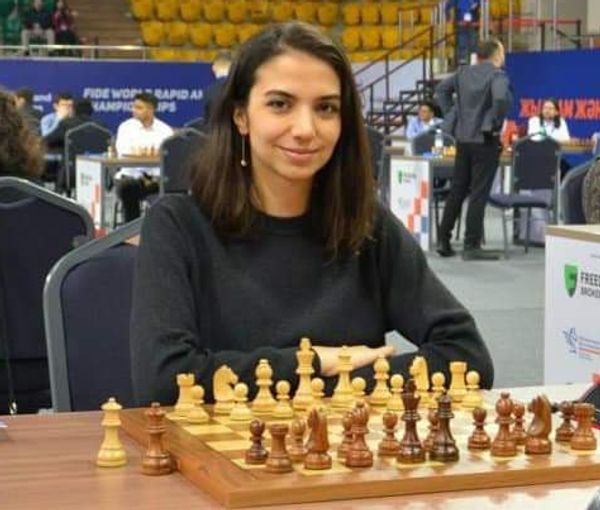 Iranian Chess Grand Master Removes Hijab In Solidarity With Popular Movement
In solidarity with other Iranian women and for the first time, Iran's Sara Khademalsharieh appeared with uncovered hair Monday at an international chess tournament in Almaty, Kazakhstan.
Iranian state media reported Monday that Khademalsharieh had competed at the World Rapid Chess Championships without wearing the hijab which under Iran's Islamic dress codes is compulsory.
The twenty-five-year-old International Master (IM) and Woman Grandmaster (WGM) since 2013 is yet to comment on her move. Khademalsharieh, 25, ranks 804 in the world, according to the International Chess Federation (FIDE) website.
Khademalsharieh is the latest of several Iranian female athletes such as sport climber Elnaz Rekabi to appear at competitions unveiled since the nationwide uprising sparked by the death in custody of 22-year-old Mahsa (Jina) Amini who was arrested by morality police for what authorities deemed as "improper hijab".
The protests mark one of the boldest challenges to Iran's leadership since its 1979 revolution and have drawn in Iranians from all walks of life. Women have played a prominent role in the uprising. Many among them have removed their headscarves, and in some cases burned them, and inspired both men and women to be brave.
Iran's female chess players have been defying hijab rules for several years. Dorsa Derakhshani, International Master and Woman Grandmaster since 2016, was barred from the national team after refusing to wear a headscarf in 2017 Gibraltar Chess Festival when she was a temporary resident of Spain. The 19-year-old chess player then moved to the United States where she attended Saint Louis University to officially represent the United States.
In 2020, Iran Chess Federation expelled veteran chess player Mitra Hejazipour, also a Woman Grandmaster since 2015, for removing her hijab during the World Rapid & Blitz Chess Championship in Moscow in 2019. The 27-year-old Iranian athlete was sacked after superbly playing for her home country for eighteen years. She is playing for France now.
Female athletes defy the hijab rules receive great support and even called heroes by people but endure much pressure from the authorities.
Rekabi was greeted by a cheering crowd when she returned home from the competitions in October. Shortly after her arrival at the airport, the state media published a video interview of her at the arrival hall in which, seemingly under pressure and threat, she had to call her hijab had "inadvertent" dropped. At the time of the interview, she looked distressed and was surrounded by officials and plainclothes security agents.
Niloufar Madani, a member of the national Iranian speed skating team stepped on a podium in Turkey on November 6 to receive the top award while not wearing a headscarf.
She was arrested by the Islamic Republic's agents after returning to Iran and later a statement attributed to her was published in which she said she appeared unveiled in public by mistake. Most Iranians believe that such statements are made under the pressure of regime agents.
In November, Parmida Qasemi, a member of Iran's archery national team, also removed her hijab during the awards ceremony of Persian Gulf Cup in Tehran before the unbelieving eyes of Iranian sport officials. However, she also claimed she had not noticed her hijab drop during the ceremony.
Iran's deputy sports minister, Maryam Kazemipour, in November accused female athletes of acting "against Islamic norms" and said she regretted that they had chosen to show defiance.