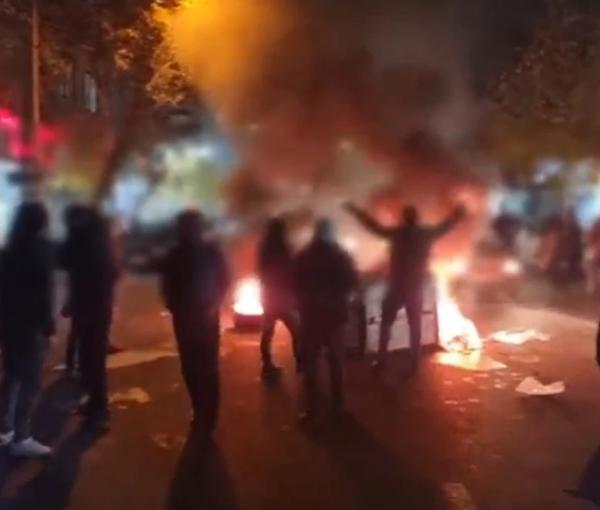 Iranians Hold Large Protests On First Day Of 3-Day Action
Monday evening thousands of Iranians came out in numerous cities to protest against the Islamic Republic and confrontations ensued with security forces.
The government shut down the Internet in most parts of the country to prevent footage from the protests to appear online. Although some videos were published on social media but the Internet disruption made it much more difficult.
In several cities, gatherings were held for the mourning ceremonies of protesters killed during the past three months. 
The situation in dozens of neighborhoods in Tehran and nearby cities, such as Golshahr and Fardis in Karaj, were hectic as large numbers of protesters came out into the streets, after the government executed two detainees in the past 10 days. Many streets in downtown Tehran were also packed with demonstrators who vowed to continue the protests until the regime is toppled. 
In Bukan, in West Azarbaijan Province, people laid to rest Mohammad Haji-Rasulpour who was killed under torture, and in Rasht people were holding rallies in many neighborhoods chanting antigovernment slogans. Gunshots are heard in videos coming from the city. Similar demonstrations were also reported in the religious city of Mashhad in the northeast.
Workers of companies in many cities, including Sanandaj, Kerman, Bushehr, Kermanshah, Bandar Abbas, Ilam, Esfahan and Ahvaz, covering almost all western, central and southern Iran, were also on strike on Monday. During the nationwide protests in the past three months, workers, and employees in various industrial and energy sectors have held numerous protest gatherings and strikes. Low wages, non-payment of arrears, and inattention to their demands have been mentioned as among workers' main grievances.
Frustrated over how to quash the protests that ignited after the death in custody of 22-year-old Mahsa Amini, Islamic Republic's Chief Justice Monday urged prosecutors and judges to carry out final sentences without any delay.
The Islamic Republic has so far executed Mohsen Shekari and Majidreza Rahnavard, both 23, and based on the latest report by the Oslo-based Iran Human Rights Organization, 39 other people are at risk of execution on charges of "war against God" and "corruption on earth." However, the executions seem to have halted since last week, therefore Ejei's order can mean the greenlight for further executions.
The US-based Human Rights Activists News Agency (HRANA) announced in its latest report that from September 17 until December 13, at least 493 protestors have been killed, of which at least 68 were minors. While the Islamic Republic has not provided accurate figures of those detained in the recent protests, the watchdog went on to say that at least 18,424 protesters have been arrested including 632 students.