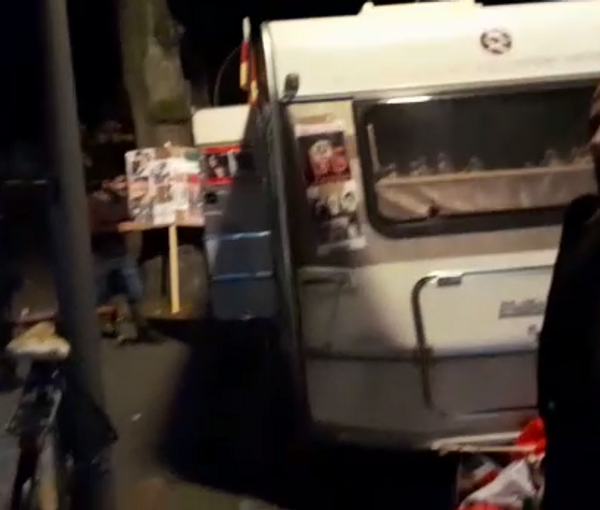 Assailants Attack Sit-In Outside Islamic Republic's Embassy In Berlin
Five assailants attacked a sit-in of Iranians outside the Islamic Republic's embassy in Berlin in the early hours of Sunday, beating and stabbing the protesters.
The attackers, apparently supporters of the Islamic Republic or hired hitmen, were carrying handguns, machetes, and bats. 
They also tore up anti-regime posters and fled the scene in their Porsche, a protester told Iran International. One protester who was stabbed was taken to hospital. 
According to eyewitnesses, they seemed to be from Arab countries. 
Iranian expatriate communities are holding regular gatherings outside the Islamic Republic's embassies around the world in support of the ongoing protests in Iran, ignited by the death in custody of 22-year-old Mahsa Amini. 
Last Saturday, October 22, a huge gathering of Iranians, estimated to be over 100,000 people, took to the streets in the German capital to support their fellow-countrymen protesting against the clerical regime.
The October 22 massive Freedom Rally for Iran started in Berlin in what is being described as the biggest gathering of Iranian protesters across the world. People from all corners of the continent traveled to Berlin by buses, trains and planes.
The famous Iranian-Canadian activist Hamed Esmaeilion, who lost his daughter and wife in the downing of a Ukrainian passenger plane in January 2020 by the Revolutionary Guard, was one of the main campaigners to organize the global series of rallies.