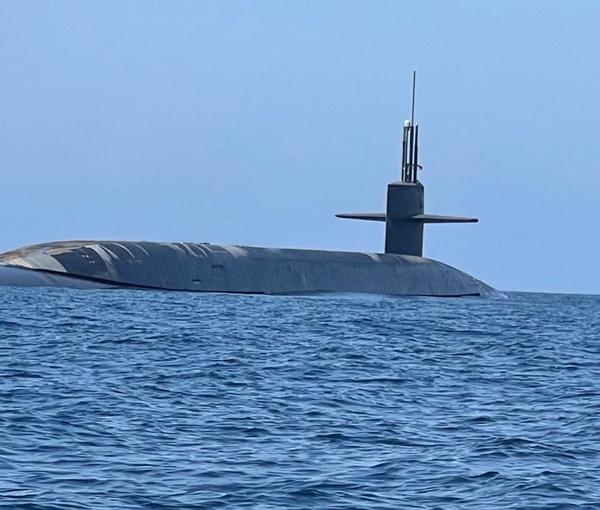 In Rare Move, US Military Discloses Location Of Submarines Near Iran
The US military made an unusual disclosure Wednesday, revealing the location of its submerged nuclear-powered ballistic missile submarines in the Arabian Sea near Iran's waters. 
In a move likely to make waves across the region, the US Central Command (CENTCOM) released photos showing its commander General Michael "Erik" Kurilla onboard the west Virginia. It has been described as a rare decision, as the US military seldom, if ever, acknowledges where its ballistic missile subs are operating, particularly when they are stationed near an adversary's shores.
Praising the submarine and its crew, Kurilla called the vessel "the crown jewel of the nuclear triad," and said that "The West Virginia demonstrates the flexibility, survivability, readiness, and capability of USCENTCOM and USSTRATCOM forces at sea."
CENTCOM Commander Michael "Erik" Kurilla onboard the USS West Virginia in the Arabian Sea
Kurilla's visit may be seen as sending a message to US adversaries in the region, including the Islamic Republic, of Washington's capabilities, including submarines that can carry up to 20 ballistic missiles with multiple warheads.
In June, US officials said attacks by Iranian proxies against bases housing American military personnel in Iraq and Syria were increasing. In August, the US military carried out retaliatory air strikes in Syria against facilities used by groups affiliated with Iran's Revolutionary Guards Corps (IRGC).
Late August, the US Navy prevented an IRGC navy support ship from capturing an unmanned vessel operated by the US 5th Fleet in the Persian Gulf.