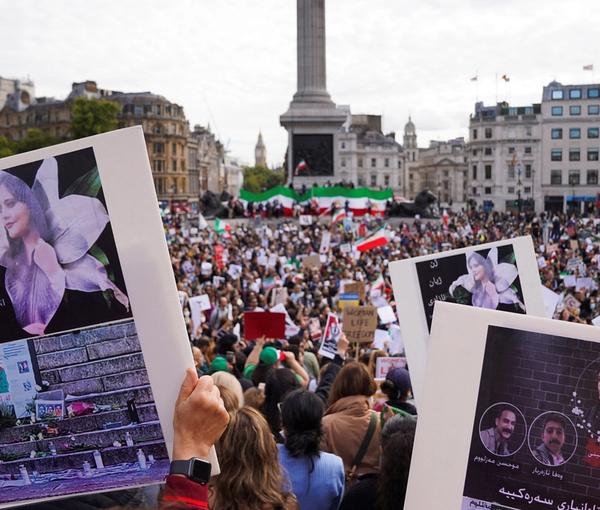 Worldwide Rallies Show Unprecedented Support For Iran Protests
Iranian diaspora communities and human rights activists have launched unprecedented rallies in over 150 cities throughout the world against the Islamic Republic.
Spearheaded by Hamed Esmaeilion, a Canada-based activist whose daughter and wife were killed by the IRGC, the Saturday worldwide demonstrations started in Australia, New Zealand and East Asia followed by European cities with cities in the American continent being the last ones to start the scheduled rallies.
Many people in Iran and abroad have been holding regular protests since the death of Mahsa Amini, the 22-year-old woman whose murder in the hands of hijab police has sparked an uprising. The level of unanimity and support from foreign leaders and officials as well as celebrities and well-known figures is unprecedented.
The protesters in most cities congregated outside the Islamic Republic's embassies or consulates or main squares, chanting slogans against the Iranian regime, such as "Death to the dictator," in reference to Supreme Leader Ali Khamenei, and "Women, Life, Liberty," as it is official motto of the current wave of protests.
In Australia and New Zealand, many government officials and international human rights activists attended the rallies and, in some cases, delivered speeches. At least three cities in Australia alone, namely Adelaide, Sydney, and Melbourne, were scenes of large demonstrations.
In London, a large crowd of Iranian expats gathered around Trafalgar Square to express support for Iran's protests. "Eventhough we're far from homeland, We have your back compatriot," they chanted.
In Edinburgh, member of the Scottish parliament and the leader of the Scottish Liberal Democrats Alexander Geoffrey Cole-Hamilton delivered a speech in support of the ongoing protests in Iran.
The gathering in Swedish capital Stockholm and Brussels in Belgium have been very huge as the cities are home to large communities of Iranians.
During the rallies in Stockholm, Reza Younesi, whose brother Ali, a gold medalist at World Astronomy Olympiad, is jailed in Iran, called for release of all prisoners of conscience and all those unjustly detained by the Islamic Republic.
Social media platforms are exploding with video footage from today's protests in Iran as the rallies are still going on in many cities across Europe.
The protests have officially started in over a dozen cities in the Americas, most of which are in United States and Canada. Numerous speeches by prominent figures have been also scheduled.
According to different estimates, about 30 to 50 thousand people have participated in the gathering in the Canadian city of Toronto.
Niagara Falls, spanning the border between the province of Ontario in Canada and the state of New York in the United States, is planned to be illuminated for 22 minutes in memory of Mahsa, who was 22 years old when she was killed, as a visual tribute to protests.
Iran's regime faced a multi-flank attack on Saturday, with student protests turning into general unrest, and businesses going on strikes in Kurdish majority provinces and southeastern Iran as well as the bazaar in capital Tehran.
Protests and strikes at around 100 universities Saturday morning turned into street demonstrations as students left the campuses and moved into streets.
Amid escalation of protests across Iran, the heads of the three branches of the Iranian government held an emergency meeting on Saturday night while the country's parliament has scheduled a special session with top security officials including Interior Minister and Police chief in attendance to discuss protests. The meeting will be held on Sunday morning behind closed doors.