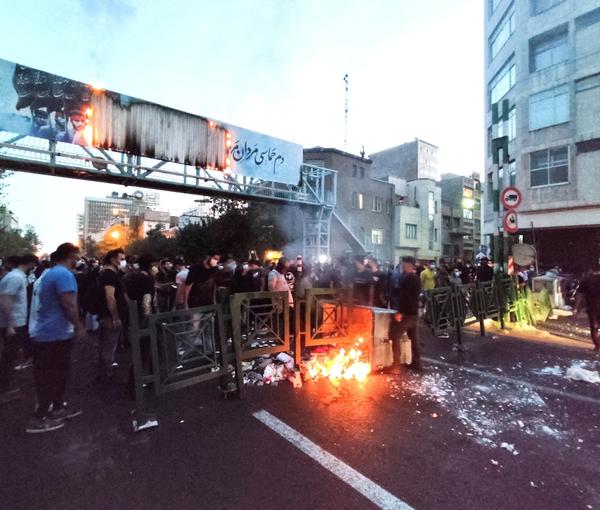 Over 75 Protesters Reportedly Killed In Iran
Iran remained in the grip of anti-government protests in many cities on Monday, for the tenth consecutive day, with the death toll now rising to over seventy.
Iran Human Rights (IHR), a monitoring group based in Oslo, Norway, said Monday at least 76 protesters have been killed by security forces so far. According to IHR, in many cases, handing over the bodies of the victims to their families was made contingent on agreeing to secret burials. Iran Wire said Tueday at least 2,000 protesters have been arrested in Tehran alone over the past ten days.
The state broadcaster, IRIB, had reported a death toll of 41 until Monday but said this included both protesters and security forces.
Protesters took to the streets again across the country including in Tehran, Tabriz, Yazd, and Sanandaj in different neighborhoods Monday evening chanting slogans against the Islamic Republic, security forces, clerics, and Supreme Leader Ali Khamenei and often clashing with security forces.
More videos have emerged of security forces brutally beating protesters. In one such video from Shiraz in southern Iran several anti-riot police are seen beating up a protester with batons.
In some neighborhoods of Tehran such as Ekbatan, a massive housing development with a middle class population of over 100,000 in the west of the capital with, residents have been displaying their support by shouting slogans from their windows after nightfall.
Chief Justice Gholamreza Mohseni-Ejei on Monday threatened celebrities who have supported the protests of retribution. Dozens of celebrity athletes and artists of every walk as well as some university professors have been expressing support for the protesters and announcing their departure from the national team, the state broadcaster, or their jobs.
"Get this into your heads, you murderers! We have lived on this land for thousands of years and seen what happened to Mongols [invaders]. We will stand on your graves, too! You can't silence us!" Mohammad Khodabandehlou, a footballer with Sirjan Golgohar FC wrote on Instagram.
The local prosecutor's office Monday impounded the luxury villa of soccer legend Ali Karimi, in Lavasan, a resort area only kilometers from Tehran, for his candid and continued display of solidarity with the protests immediately after they began.
Photos of the villa's entrance were published on social media with signs saying the property had been sealed by judicial order "until further notice" but these were removed later without any explanation.
The Revolutionary Guard (IRGC)-linked Fars news agency had earlier accused Karimi, who is currently in the UAE, of being an "agitator" and "leader of rioters" and a hardliner former lawmaker, Hamid Rasaei, demanded confiscation of his properties in Iran.
Karimi, known as the 'Asian Maradona', who is followed by over 12 million on Instagram reacted by saying "A house has no value without the homeland".
Instagram, the only major social media platform not blocked in Iran in the past few years, was filtered after protests began. The decision has a huge impact on hundreds of thousands of small businesses and millions of people who relied heavily on the platform for making a living
University classes are held online to prevent student protests on campuses as intermittent Internet blackout continues. In many cities such as Shiraz and Qazvin as well as Alborz province, authorities closed schools Monday "due to air pollution" but in other areas classes convened as usual.
For a fourth consecutive day Monday, the IRGC shelled the camps of opposition Iranian Kurdish parties in the border areas of the neighboring Kurdistan region of Iraq. The operations started after rallies in Erbil and Sulaymaniyah in solidarity with Iranian protesters, particularly in the western Kurdish areas.