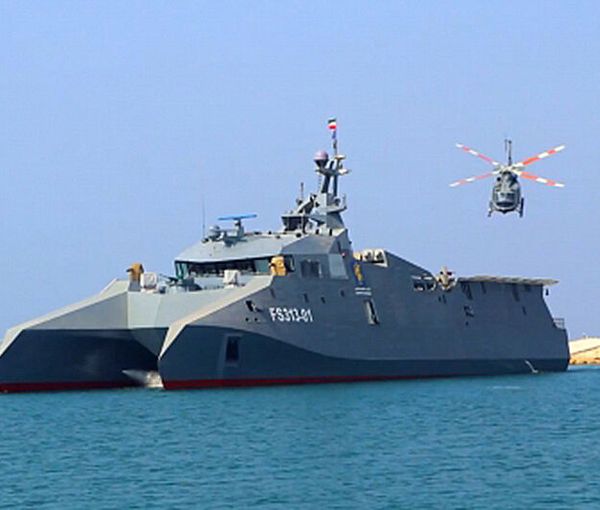 IRGC Adds New Military Vessels To Its Navy Fleet
Iran's Revolutionary Guard (IRGC) navy has added three new military vessels to its fleet including a patrol combat warship named after Qasem Soleimani, killed by a targeted US air strike in 2020.
Addressing the unveiling ceremony in the southern Iranian port city of Bandar Abbas on Monday, Major General Mohammad Bagheri, Iran's chief of staff for the Armed Forces, said the Soleimani patrol combat warship is a multi-hulled watercraft that can carry choppers and can unload strike speedboats and vertical take-off and landing (VTOL) drones, adding that it is the first Iranian military vessel equipped with air defense missiles with a vertical launching system that can fire mid- and short-range missiles.
He claimed that the hull of Shahid Soleimani-class missile corvette is made with radar-evading stealth technology construction techniques, meaning that it has a very low level of radar cross-section thanks to its shape. 
In addition to Bagheri, the IRGC Chief Commander Major General Hossein Salami, Commander of the IRGC Navy Rear Admiral Alireza Tangsiri and a number of other high-ranking military officials, commanders and state officials attended the ceremony. 
The IRGC Navy also delivered Shahid Rouhi and Shahid Dara high-speed and missile-launching assault boats. 
Shahid Dara is an upgraded version of old Tondal-class missile boat
Shahid Rouhi missile boat
In July, the United States Naval Institute published satellite photos showing that Iran was constructing new stealth missile boats on the island of Qeshm in the Strait of Hormuz in the Persian Gulf.
On Sunday, two surface-to-surface missile launchers, one logistic vessel and one Ghadir-class submarine were added to the South Fleet of the Iranian Army Navy of the country.