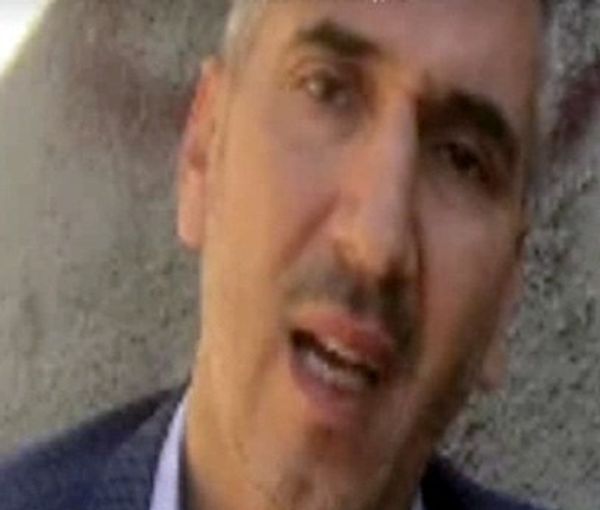 Exclusive: Israeli Mossad Interrogated An IRGC Official Inside Iran
Israel's Mossad captured a senior IRGC official on Iranian soil and interrogated him about weapons shipments to Iran's proxies, Iran international has learned.
Iran International has obtained video footage of the interrogation in which a man introducing himself as Yadollah Khedmati, deputy commander of the Revolutionary Guards (IRGC) Logistics, says he regrets his involvement in shipping weapons to Iran's proxy groups in Syria, Iraq, Lebanon, and Yemen and urges other IRGC officials to avoid engagement in such activities.
According to a source, Khedmati served as the deputy of Brigadier General Ali Asghar Nowrouzi, the IRGC's Logistics commander who is known as a close associate of the former commander of the IRGC's Qods Force, Ghasem Soleimani. Soleimani was assassinated by the US in Baghdad in January 2020.
Khedmati also tells his interrogators about Nowrouzi's connections with Fars Air Qeshm cargo airline. The airline has been accused of transporting weapons for Hezbollah during the civil war in Syria.
The source who spoke to Iran International on condition of anonymity said Mossad agents had released Khedmati unharmed after the several-hour-long interrogation at an unspecified time and place.
Nowrouzi has been responsible for sending weapons to Iran's proxy groups in the region including Syria as well as securing funds for the operations of the Qods Force through the IRGC's Cooperatives Foundation of which he's a board member, the source claimed.
On June 14th Iran's state-run television (IRIB) in a report showed several men in prison outfits claiming they were recruited by a Mossad agent who went by the alias Sirous to abduct Iranian officials and carry out assassinations on Iranian soil on behalf of the Mossad.
The report called these individuals "thugs and hooligans" and claimed they were involved in a wide range of criminal activities including human and weapons trafficking before being recruited by Israeli agents.
Sirous, the men said, contacted them through social media, prepared them for their future mission which ranged from arson to murdering humans, in online group sessions, and paid them in US dollars.
According to the Iranian TV report, the recruited "thugs and hooligans" abducted "a Jihadi official linked to the IRGC" and took him to a mud hut in a field in an unknown location in the suburbs of Tehran where they forced him "to make false confessions" on camera under threat and torture about things "not related to his specialized field of work".
The report said the Mossad agent behind the abduction was also arrested by the IRGC's intelligence (SAS) with the help of the intelligence ministry.
This is the second time evidence emerges of Israeli agents detaining an IRGC operative inside Iran and taping confessions. A short audio recording was published by Israeli media in May with a photo of a man introduced as Iranian national Mansour Rasouli, 52. In the audio recording, Rasouli said he was sent to Turkey by the IRGC to establish an operational network to assassinate an Israeli diplomat in Istanbul, a Germany-based US general, and a journalist in France.
Israeli television channels including Channel 12 which broadcast the recording, without providing a source according to The Times of Israel, claimed the video was made by Mossad operatives posing as Iranian secret service at Rasouli's home in Tehran. Channel 12 news added, also without citing a source, that the Shin Bet security agency — which generally operates within Israel — also participated in the detention in Iran.
Iranian, Israeli, and Turkish officials never made any comments about the reports of the alleged assassination plots but a week after the original audio recording emerged, the man in the photo published by Israeli media released a denial video on social media, possibly recorded and released by Iranian intelligence, in which he said he had been coerced by his abductors to make false confessions.