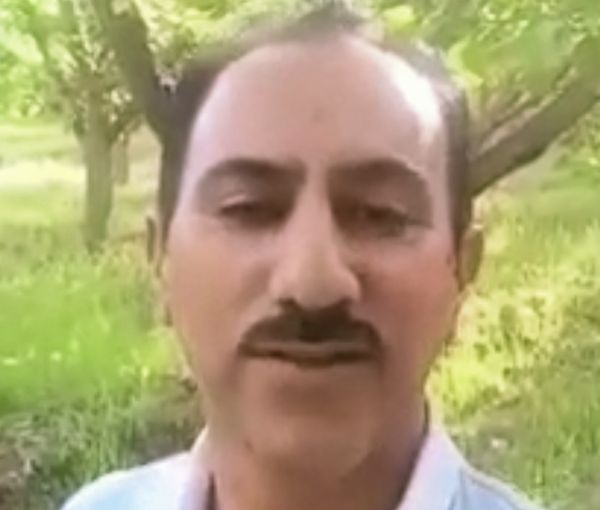 Iranian Man Claims Mossad Coerced Him To Confess To Terror Plots
The man who had confessed to planning assassination on behalf of Iran's Revolutionary Guards in an audio tape released last week, now claims he was coerced.
In a new video acquired by Iran International Saturday, a man who introduces himself as Mansour Rasouli says he was abducted and coerced to make false confessions. The man's appearance is very similar to a photo released by Israeli media and speaks with the same voice and accent as in his earlier audio recording.
It is possible that the denial video was recorded and released by Iranian intelligence.
The man in the video says he was abducted by a "team of gangsters" who took him to an unknown place. "I didn't know why I was abducted," he says. His abductors threatened to kill him and his family to coerce him to say he was planning to carry out terrorist operations for the Revolutionary Guards (IRGC) in Europe and that he had received $150,000 for the operations.
"They tear-gassed me, tied my hands, blindfolded me, and drew a sack over my head. They brutally forced me into a car and took me to an unknown place," he says and claims his abductors took his mobile phone and may release images from it but does not explain how the images could implicate him in any illegal activities.
However, Iran International will soon release another video from the same man where he confesses to the terror plot.
On April 30, Israeli media, including Channel 12, released an audio recording with the photo of a man introduced as Iranian national Mansour Rasouli, 52, who they claimed the Mossad had interrogated inside Iran. Israeli media did not provide a source for the audio file that they said Mossad operatives posing as Iranian secret service recorded at Rasouli's home in Iran.
The recording surfaced hours after Iran International's report of an alleged Iranian triple assassination plot. Iran International's diplomatic sources had said a member of the IRGC'S Qods Force had been detained in an unnamed European country for assassination plots in Germany, France and Turkey.
In the Israeli's media's audio recording, Rasouli said he was sent to Turkey by the Revolutionary Guards (IRGC) to establish an operational network to assassinate an Israeli diplomat in Istanbul, a Germany-based US general, and a journalist in France. The new denial video at least confirms that reports in Israeli media about agents getting a 'confession' from the man were true.
Citing Israeli officials, some Israeli media such as Walla news site have claimed that the incident took place a year ago and the man interrogated had connections to drug-smuggling networks.
Apparently duped by his interrogators that they were from one of Iran's many intelligence agencies, Rasouli said in the recording that accepting to carry out the operation was a mistake that he would never make again.
A statement from Israeli Prime Minister's Office said Monday the Mossad had "foiled" alleged IRGC plots to assassinate a US general in Germany as well as a journalist in France, and an Israeli diplomat in Turkey.
Tehran officials have not commented on the Israeli media's claims. However, in a commentary Monday, Nour News called the reports over the alleged plot "fabrication of the Zionists."
Nour News, a website affiliated to the secretary of Iran's Supreme National Security Council (SNSC), Ali Shamkhani, also accused the BBC's Persian channel of "running the show" and trying to "divert the attention of the public" from "Israeli crimes against Palestinians" and helping the Israeli government overshadow its domestic problems with "crude lies".