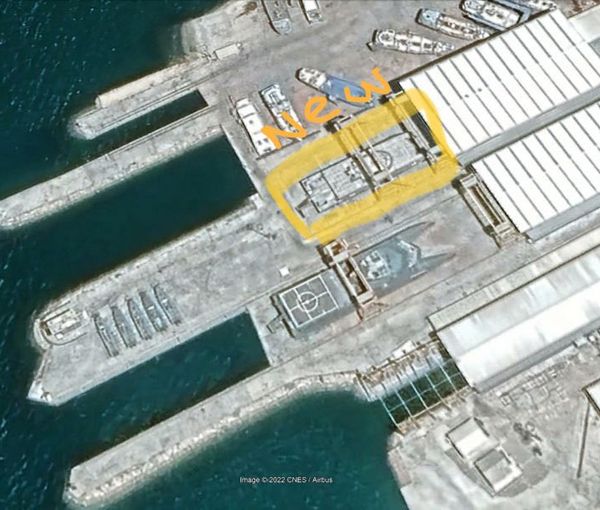 Satellite Image Shows Iran Building New Stealth Missile Boat
Satellite imagery shows Iran is constructing a new stealth missile boat on the island of Qeshm in the Strait of Hormuz in the Persian Gulf, the United States Naval Institute says. 
The USNI, a non-profit professional military forum that offers independent, nonpartisan info on security issues, published a photo of the vessel at Qeshm Madkandaloo Shipbuilding Cooperative Company shipyard on Thursday. It is visible in Airbus commercial satellite imagery shared publicly on Google Earth.
The unidentified catamaran, probably a missile boat, is seen next to another new multi-hulled missile watercraft -- a Shahid Soleimani-class missile corvette – and is characterized by a clean-angled form, appearing stealthier than earlier types. The new type bears some similarities with the Soleimani-class in overall form but is noticeably smaller, measuring about 50 meters (166 feet) long and 14 meters (46 feet) across.
The new vessel appears to lack the helipad that the Shahid Soleimani-class has, but since it is currently unfinished, it is difficult to assess the final fit. However, it does have two cut-outs in the aft deck that are indicative of pop-up missile tubes, likely for four to eight Noor or Qader anti-ship missiles, the Iranian versions of the Chinese C-802 family of sea-skimming missiles roughly equivalent to the US Harpoon and Neptune types.
Last week, IRGC Navy Commander Alireza Tangsiri said Shahid Soleimani-class missile corvette, which carries helicopters, will be added to the IRGC Navy's fleet in the near future.
Late in June, Iran repeated its tactic of harassing American naval vessels in the Persian Gulf, as three IRGC speedboats came dangerously close to US ships.