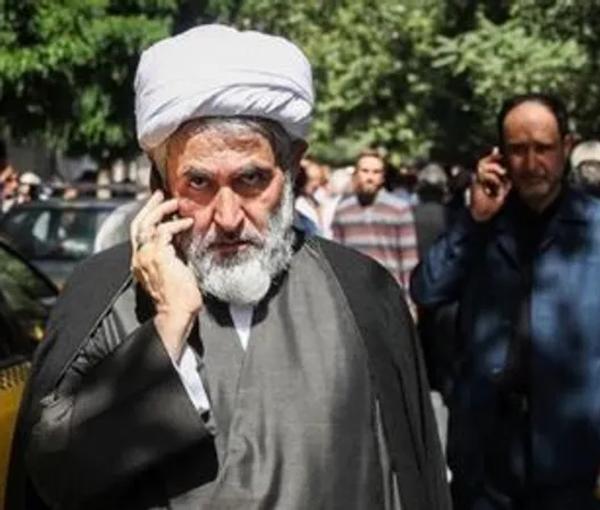 Exclusive: Other Security Chiefs In Iran Want To Limit IRGC Intelligence
The chief of IRGC's intelligence was replaced due to long-simmering opposition by other top security figures, information received by Iran International shows.
After two days of rumors, it was announced on Thursday that Hossein Ta'eb, the long serving head of the Revolutionary Guard's Intelligence organization (SAS in Persian acronym) was replaced by Mohammad Kazemi, another figure in the outfit.
The change considered to be a pivotal move by Supreme Leader Ali Khamenei came after a series of unexplained deadly attacks against IRGC officers and other breaches of security in Iran's nuclear and military installations.
Information received by Iran International indicates that the chief commander of IRGC's Quds (Qods) Force Esmail Ghaani (Qaani) and Esmail Khatib, the minister of intelligence, were two of the most high-ranking critics of Ta'eb, who were waiting a long time for an opportunity to push for his removal.
According to the information at our disposal, Ta'eb's opponents had repeatedly argued that SAS had failed to carry out its mission under his leadership.
Our sources said that in recent months heads of other intelligence and security entities had sent repeated messages directly to Khamenei's office in essence demanding the dismissal of those who had gone too far in using their powers "for neutralizing terrorism and espionage" inside the country.
Khamenei greeting Ghaani in January 2020
Sources added that Ta'eb's high-ranking opponents had argued that his organization did not use "the elementary standards for neutralizing terrorist activities" in Iran. They also charged that the recruitment of "amateurish and non-professional" elements in extraterritorial operations harmed Iran's other security entities.
In recent weeks, there were several revelations of Iran's plans to attack and harm Israelis and others abroad. Particularly, Israeli officials said in June that plots to harm Israelis in Turkey were foiled and urged their citizens not to travel to Istanbul. Ankara reported this week that its security arrested several Iranian operatives.
In short, Ta'eb's opponents in other intelligence and security entities had been demanding a cleansing of IRGC's Intelligence Organization, the dismissal of key people and redefining its duties by eliminating some of its responsibilities.
Intelligence Minister Khatib. Undated
The Islamic Republic has two main intelligence organizations: the Ministry of Intelligence and the IRGC Intelligence Organization. The ministry nominally is under the president's control and regards itself as the most professional entity. But in fact, it is also controlled by Khamenei, who selects the minister.
While the ministry of intelligence regards itself as the "professional" outfit for all espionage and counter-espionage activities and the Quds Force sees itself in charge of all extra-territorial operations, IRGC's intelligence in recent years had entered their turfs, creating tensions.
Information received by Iran International indicates that Ta'eb's failures in espionage, counterespionage and unsuccessful operations abroad presented an opportunity to its rivals to weaken it.
His replacement, Mohammad Kazemi is seen by others as a "gray bureaucrat" and is not considered an "operations" person. His appointment, therefore, is an attempt to settle scores by dismissing many key and senior people in SAS.
Repeated failures in foreign operations
Operations by IRGC's intelligence outfit is divided into two units: Special Operations or unit 4000, and Counterespionage Operations or unit 1500.
Our sources said that during Ta'eb's leadership, the role of Unit 1500 changed to "terrorist" operations abroad, which suffered repeated failures in its missions, leading to calls for his dismissal.
The May 22 assassination of Hassan Sayyad in Tehran, who was in charge of some of the operations as head of Unite 840 was "the most serious failure" for Ta'eb from the perspective of his opponents. Some were pointing out that Sayyad was not even warned by counterespionage about threats he was facing.
Another defeat, according to sources, was the arrest of three senior officers of SAS in the United Arab Emirates in November 2021, that required months of diplomatic negotiations to free them.
The arrest of dozens of people in Cyprus for having ties with the IRGC and being involved in a plot to kill Teddy Sagi an Israeli businessman last year, and more arrests in Turkey in February for a plan to kill another Israeli businessman, Yair Geller, were other examples of Ta'eb's failures.
A more recent example was the revelation of a plot to kidnap the former Israeli ambassador in Turkey, which further humiliated Iranian intelligence and gave more credit to Israeli counterintelligence. The incident resulted in the cancellation of foreign minister Hossein Amir-Abdollahian's visit to Turkey.
These led to more accusations against Ta'eb that not only he fails in his missions, but he created serious problems for other entities, including for Iran's diplomacy.