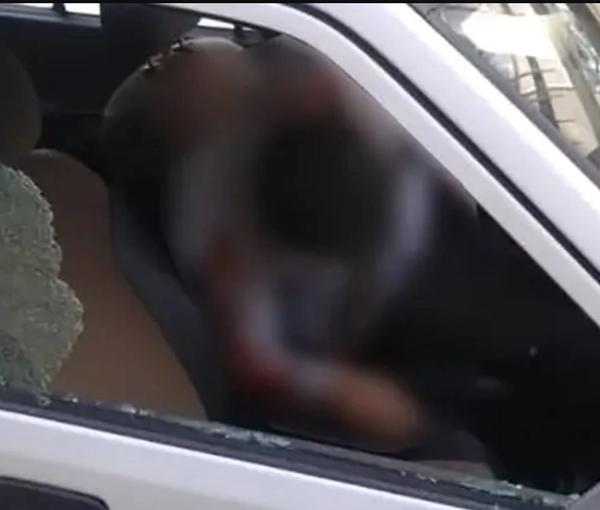 Iran's Shaken Government Vows Revenge For Assassination Of IRGC Man
President Ebrahim Raisi said Monday Iran will "definitely" take revenge for the spectacular assassination of a Revolutionary Guard Qods Force colonel in Tehran.
"Revenge against the criminals for the blood of the great martyr [Hassan Khodaei] will definitely be taken, without any doubt" Raisi who was speaking to reporters before leaving Tehran for Oman for an official visit said.
In lightly veiled terms, Raisi accused the United States and Israel for the assassination saying the "global arrogance" and those, who he said, had been defeated in battlefields" by defenders of Shiite holy shrines in Syria had resorted to assassinations due to their "frustration".
Colonel Hassan Sayyad-Khodaei, who Israeli media say was the acting commander of an elite Qods (Quds) Force unit, Unit 840, was shot dead behind the wheel of his unarmored Iranian-made Kia Pride by two gunmen who fled the scene on a motorbike.
The colonel's name appeared as Sayyad-Khodayari in earlier reports.
The assassination took place in front of Sayyad-Khodaei 's home on Mojahedin-e Eslam street very close to the Iranian Parliament in central Tehran in broad daylight.
Agents and onlookers gathered around Khodaei's house on Sunday
There is no mention of Unit 840 of Qods Force, the extraterritorial arm of the IRGC, in Iranian media. The existence of a such a unit has only been reported by Israeli media, which in November 2020 reported that Israeli Defense Forces (IDF) had accused Unit 840 of placing explosives on Syrian border.
IRGC Spokesman Ramezan Sharif on Monday blamed intelligence services of the "global domination system and Zionism" for the assassination which in Iranian official rhetoric refer to the United States and Israel. Armed Forces' Spokesman Abolfazl Shekarchi said intelligence bodies are investigating the assassination and will announce its results later.
Earlier this month, Mansour Rasouli, an Iranian man who was seen in a video confessing to planning assassinations on behalf of the IRGC claimed in another video shared on social media that he was coerced by unknown people, allegedly Mossad agents, into making the confession.
Israel's Channel 13 news on Sunday claimed that Rasouli had been one of the operatives under Sayyad-Khodaei 's direction.
Israel's Channel 12 also claimed that Sayyad-Khodaei had also been behind an attempt by Iranian operatives recently uncovered by Shin Bet to lure Israeli academics, businesspeople, and former defense officials abroad to kidnap them as well as alleged plot to kill five Israelis in Cyprus.
Diplomatic sources who spoke to Iran International in April said the man in charge of the alleged assassination plots was a member of the secretive Unit 840 whose mission is to conduct operations against Western targets and Iranian opposition groups and individuals.
In another statement that seemed like an attempt to compensate for the security lapse in Tehran, the IRGC and Iran's Intelligence Ministry announced they had discovered and captured a team of "thugs" linked with Israel's Mossad.
The statement said the Israeli intelligence networks "were engaged in stealing and damaging public and private properties, kidnapping and getting forced confessions".
Iranian state-run media on Sunday, around the time of the assassination, also said the IRGC's intelligence organization had arrested members of an Israeli spy ring operating in the country.
In recent years Iran has blamed Israel for the assassination of its nuclear scientists as well asMohsen Fakhrizadeh, said to be Iran's top nuclear man, in November 2020 in a highly complicated operation east of the capital Tehran involving a remotely-controlled one-ton automated weapon that had been smuggled into the country in pieces.
Iran has also accused Israel of sabotage operations against its nuclear facilities including an explosion in April 2021 that inflicted major damage to the Natanz uranium enrichment site.
Israel has never officially taken responsibility for any of these assassinations and sabotage operations but also never denied involvement.