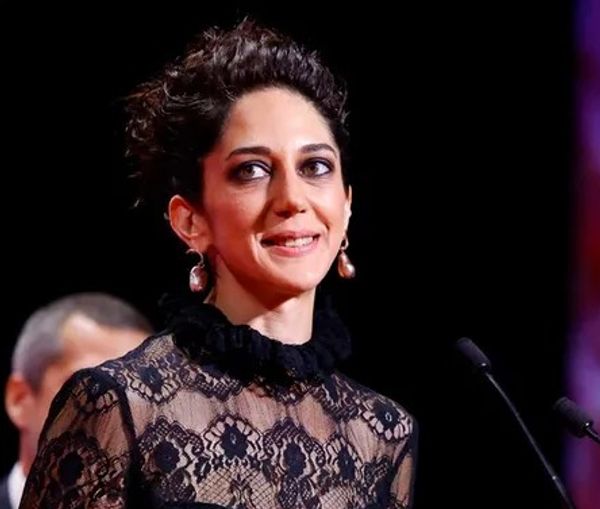 Actress Who Won At Cannes Says Her Heart Is With People Of Iran
Zar Amir-Ebrahimi, Best Actress at Cannes Film Festival says her heart is with the people of Abadan where a recent building collapse has sparked angry protests.
"Although I'm very happy at this moment, part of me is sad for the people of Iran who are grappling with many problems daily. I'm here, but my heart is with the women and men of Iran. My heart is with Abadan," actress Zar (Zahra) Amir-Ebrahimi said in her acceptance speech inher native Persian with a quivering voice.
Thousands have taken to the streets in Abadan and several other Iranian cities to protest against the government over the past few days following the collapse of an illegally built, new ten story building on Monday.
The tragedy has so far claimed 29 lives and many more are feared dead under the debris. Protesters have been chanting slogans against Supreme Leader Ali Khamenei and other officials who they hold responsible for corruption and mismanagement of the country.
Amir-Ebrahimi received her award for playing the role of a journalist in search of a serial killer in Holy Spider. The thriller directed by Denmark-based Iranian-Canadian filmmaker Ali Abbasi is inspired by the true story of serial killer Saeed Hanaei who strangled 16 women in the religious city of Mashhad between 2000-2001.
Many Iranians feel proud of Amir-Ebrahimi, the first woman of Iranian cinema to earn the award but hardliners have condemned Amir-Ebrahimi for playing in the film which they say insults their religious beliefs.
Hanaei who came to be known as the "Spider Killer" was finally caught and hanged in 2002 but many alleged that the police had closed its eyes to his murders for so long because he chose his victims from among prostitutes. He even turned into a hero for those who supported his claim in the court that he wanted to cleanse the city of his victims' 'moral corruption'.
Ordinary citizens trying to rescue possible survivors from a collapsed building in Abadan, Iran. May 25, 2022
The poster of the film has particularly angered the hardline religious establishment. It shows Mashhad from above at night with the shrine of the 8th Imam of Shiites of the 8th Imam of Shiites at its center. They say the street lights in the poster look like the legs of a spider spread over the city from the center where the shrine is located.
"She has received the best actress award of Cannes Film Festival for playing in a completely anti-Iranian, anti-religious film full of insults to Iranians' religious beliefs including [belief] in Imam Reza," one of her critics tweeted.
"You are happy about Amir-Ebrahimi's award? Never mind the anti-religious character of the Holy Spider, how do you justify its anti-Iranian approach?" Danial Memar, editor-in-chief of Tehran municipality's Hamshahri newspaper, told the actress admirers in Iran in a tweet. "You are such traitors to your homeland," he added.
Amir-Ebrahimi, 41, became a victim of a smear campaign when she was a young actress in her twenties. A sex tape leaked online in 2006 ended her carrier in a country where religious and traditional prejudices are very strong. She has lived in France since the incident.
"This film is about women, it's about their bodies, it's a movie full of faces, hair, hands, feet, breasts, sex -- everything that is impossible to show in Iran," Ebrahimi told the audience at the awards ceremony.
"I have come a long way to be on this stage tonight. It was not an easy story," she said. "It was humiliation but there was cinema, it was solitude but there was cinema, it was darkness but there was cinema. Now I'm standing in front of you on a night of joy."
The film had to be shot in Jordan as Iranian authorities did not allow Abbasi to make the film at home. There film is extremely unlikely to receive screening permission in Iran.