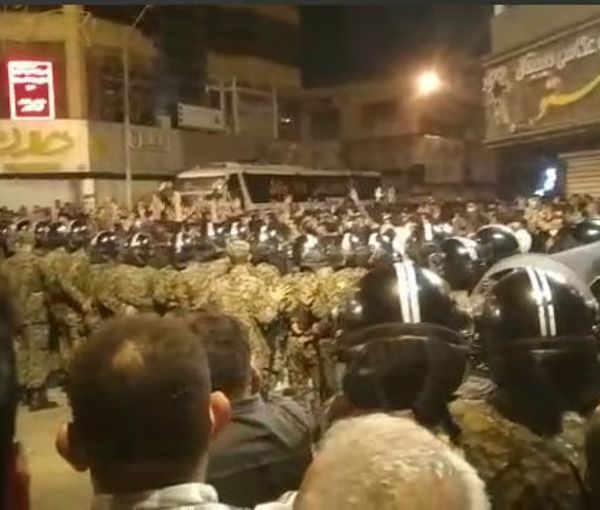 Iranian Security Uses Tear Gas, Firearms Against Protesters
Fars news agency has acknowledged that Iranian security forces used tear gas and fired in the air to disperse protesters in Abadan, Khuzestan, Friday evening.
In its report, Fars, affiliated with the Revolutionary Guard (IRGC) claimed that police forces had to use tear gas and fire in the air because protesters insisted on entering the area where one side of Metropol twin towers, a newly built ten story building, collapsed on Monday. So far 28 bodies have been pulled from the ruins of the building and there may be tens more still buried under the rubble.
Reports by Iranians on social media said IRGC security forces fires on the people, but no casualty figures have been mentioned.
Not mentioning any of the slogans against Supreme Leader Ali Khamenei and other authorities, Fars fundamentally downplayed the size of protests in other cities. "In Ahvaz 200 people lit candles in front of the Central Library," the Fars report said.
Videos and posts on social media, however, tell a completely different story. "We Are People of the War, Let Us Fight," one of the videos shows a large crowd of protesters chanting in Ahvaz, capital of oil-rich Khuzestan province, in reference to their history of fighting against Saddam Hossein's forces during the eight-year war with Iraq (1980-1988).
Gunshots are heard in other videos from Ahvaz Friday evening and people fleeing from security forces on foot and on motorbikes. Social media users also said it was the IRGC, its Basij militia, and the anti-riot guards who shot at people, not the police, as Fars claimed. They have also reported continued disruption in internet access.
Rescue workers trying to get into the basement of Metropol building. May 25, 2022
Thousands took to the streets to protest against the government and express solidarity with the people of Abadan in several cities Friday evening, including Shahin Shahr, a city in the central Esfahan Province where many Khuzestani refugees of the Iran-Iraq war (1980-1988) still live, Behbahan in Khuzestan, and the port city of Mahshahr in Hormozgan Province.
Protesters in the past few days have been chanting slogans against the Islamic Republic, particularly Supreme Leader Ali Khamenei who they blame for mismanagement of the country and corruption which allows well-connected individuals such as Hossein Abdolbaghi, the owner of Metropol twin towers, to bypass regulations and put people's lives in danger. Authorities say the building collapsed because using his connections with influential officials, the owner had added five more stories to the original plan.
Referring to Supreme Leader Ali Khamenei's demand to pursue the culprits and to impose "exemplary punishment" on them, pro-government and state-funded newspapers such as Khorasan and Jam-e Jam have urged punishment to prevent corruption and further tragedies.
Iran has a long record of executing "disruptors of economy" and corrupt individuals but in a report Friday entitled "The Execution That Didn't Teach a Lesson", the semi-official Mehr news agency asked why such measures, including the execution of businessman Mahafarid Khosravi in 2014 for his part in a massive bank embezzlement scandal in 2011, have not stopped corruption.
Referring to the controversies over the authorities' claims that the owner of the building was among those who died in the collapse of his building, the reformist Etemad newspaper criticized censorship and "absence of independent and credible media". "Controversies over whether Abdolbaghi is dead or alive are a direct consequence of untrustworthiness of official media," Etemad wrote.
Another article in Etemad, entitled "Metropol: The Height of Corruption", said corruption in the country has taken deep roots because authorities have hugely targeted and restricted non-governmental organizations which could keep watch to prevent corruption and mismanagement of officials.