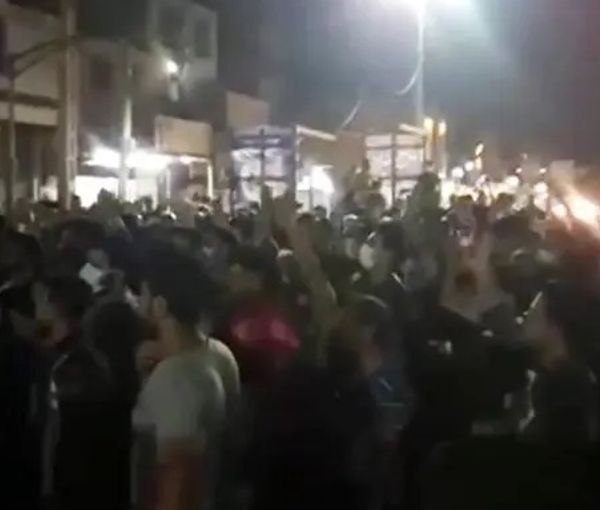 Tens Of People Arrested In Iran's Anti-Government Protests
Weeklong protests in Iran triggered by soaring prices spread to several provinces Thursday as they took on anti-regime tones, and tens of people were arrested.
Confirming that protests had taken place in several other cities outside the oil-rich Khuzestan where unrest had alreay begun last week, the official news agency IRNA reported Friday that tens of protesters had been arrested.
Most Iranian media did not report the protests at all but IRNA in its report downplayed the extent of the protests and said they have ended and "calm was established" in all areas where there was unrest.
Early reports and some video evidence show security forces used force in some instances against peaceful protesters marching in the streets and chanting against rising prices and government leaders.
Chants by protesters show that their anger goes beyond higher prices and the unrest has turned into a manifestation of anti-regime sentiments.
In cities where protests took place on Thursday, as videos show, protesters chanted "Death to Khamenei" and "Shame on You Raisi, Leave the Country Alone" and against the government's move to raise prices of food staples including bread, chicken, oil, eggs, and dairy products.In some areas protesters also chanted praises for Reza Shah, the founder of the Pahlavi Dynasty, who began modernization in Iran almost a century ago.
President Ebrahim Raisi announced Monday that his government has begun the process of removing import subsidies for basic foods, animal feed, and medicine. He also confirmed that his government would pay cash assistance to most Iranians as compensation.
The measure has already resulted in soaring bread prices, and economic chaos in the markets.
Many Iranians believe that the effect of cash handouts will soon be offset by more inflation and even higher costs of living.
Raisi on Friday visited a municipality-run food market in the south of the capital to personally check the prices of chicken and other staples and speak to people. A video posted on Twitter shows him saying he will never allow people to be harmed as long as he lives, in response to one of the shoppers questioning him.
Protests outside Khuzestan, where people took to the streets over a week ago, were reported in cities of Lorestan, Chahar Mahal and Bakhtiari, Kohgiluyeh and Boyer-Ahmad and Kermanshah in western Iran as well as Fashafuyeh to the south of the capital Tehran.
According to social media reports security used tear gas in Izeh (Khuzestan), Kermanshah (capital of province of the same name), Shahr-e Kord (capital of Chahar Mahal and Bakhtiari) and fired air shots to disperse the protesters.
Protesters in Jouneghan in Chahar Mahal and Bakhtiari Province attacked the local Basij militia's headquarters and set fire to it. In a video circulating on social media that shows the burning establishment and a vehicle burning inside, the narrator chants "Death to the Dictator" and tells the clerics in power that this is only the beginning, and they will all be killed.
IRNA claimed protesters in Izeh (Khuzestan), where it said only tens had been protesting, attacked some chain stores and torched a mosque and in Andimeshk (Khuzestan), where it said around 200 were protesting threw stones at security forces and firefighters. According to IRNA in Fashafuyeh (Tehran) "tens" of protesters chanted against price hikes.
An attack on a chain store, IRNA said, prompted the interference of security forces who dispersed the protesters. IRNA also reported the arrest of 15 in Dezful (Khuzestan) and seven in Yasuj (capital of Kohgiluyeh and Boyer-Ahmad Province).
Available videos show the number of protesters were much higher than what IRNA claimed and its report about attacks on stores cannot be verified.
Pundits in Iran predicted the unrest in the past one week as prices suddenly jumped. Some have said that if nationwide protests start, they will be much more intense than in November 2019 when security forces were ordered to fire on protesters killing at least 1,500 people.