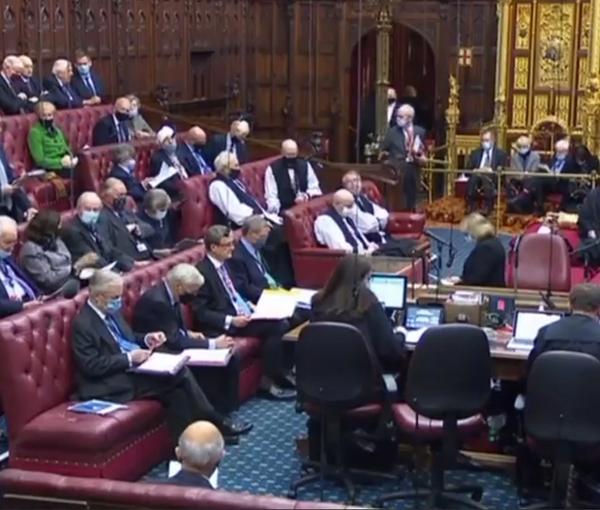 British Parliament Weighs Proscription Of Iran's Revolutionary Guards
A debate in the British House of Lords Wednesday highlighted pressure for the United Kingdom proscribing Iran's Revolutionary Guards (IRGC) as a terrorist group.
In response to a question from Lord Polak, chairman of the Conservative Friends of Israel, government whip and spokesman Lord Sharpe said the matter was "under review."
Lord Polak argued that the UK should "fully proscribe" the Guards, citing an article in the London Times. He argued the UK had "failed to hold the IRGC to account" for its activities, including the shooting down of a Ukrainian airliner over Tehran in January 2020 and an attack on the tanker MV Mercer Street in July 2021, in which a British citizen died, and which London and Washington attributed to Iran.
Several other member of the Lords joined the discussion demanding action against IRGC or asking questions about the progress in nuclear talks with Iran.
The discussion in the Lords followed Monday's attack, attributed to Yemen's Ansar Allah, or Houthis, on an oil facility and airport in Abu Dhabi, in which three died. Allied to Saudi Arabia, the United Arab Emirates has been involved in the Yemen war since 2015, while Iran has lent support and training to the Houthis. Proof of Iranian involvement in the attack could undermine the current thaw in Iran-UAE relations.
Lord Sharpe told the Lords, the UK's upper parliamentary chamber, that the UK had already imposed 200 sanctions against Iran, including on the IRGC. Those calling for proscription argue it would tighten measures against the Guards, with designation under UK law makingeven the expression of support for such a group a criminal offense.
Lord Sharpe criticized the IRGC's role in supporting Iran's allies and proxies around the region, including the Houthis, Hezbollah in Lebanon, and Iraqi Shiite militia groups. "The UK strongly condemns the Houthi-based claimed attacks on the UAE," Lord Sharpe said. "We are in contact with our Emirati partners and have offered UK solidarity and support."
Best way forward
In 2019 US president Donald Trump proscribed the IRGC as a 'foreign terrorist organization,' prompting Iranian President Hassan Rouhani to describe the US as the "leader of world terrorism" and the Iranian government to list the US as a 'state sponsor of terrorism.'
Trump's designation came a year after he withdrew the US from the 2015 Iranian nuclear deal, the JCPOA (Joint Comprehensive Plan of Action), which world powers are currently working with Iran to revive in negotiations in Vienna.
Tehran has demanded that all sanctions incompatible with the JCPOA, including those restricting its ability to trade internationally, must be withdrawn before President Joe Biden can bring the US back into the nuclear agreement with Iran restoring the JCPOA's nuclear limits.
In response to a question from Labour peer Lord West, Lord Sharpe told the House of Lords that the British government was convinced that restoring the JCPOA was "the best way forward" for curbing Iran's atomic program and that United Nations Security Council Resolution 2231 of 2015, which endorsed the JCPOA, precluded Iran from activities, including launches, related to ballistic missiles "designed to be capable of delivering a nuclear weapon."
Lord West said that "one month ago the Iranians exercised a practice dummy rum attacking the Dimona nuclear facility in Israel using 16 ballistic missiles and lots of drones," and that "a number of agencies are now assessing that Iran will have a nuclear weapon capability within months."