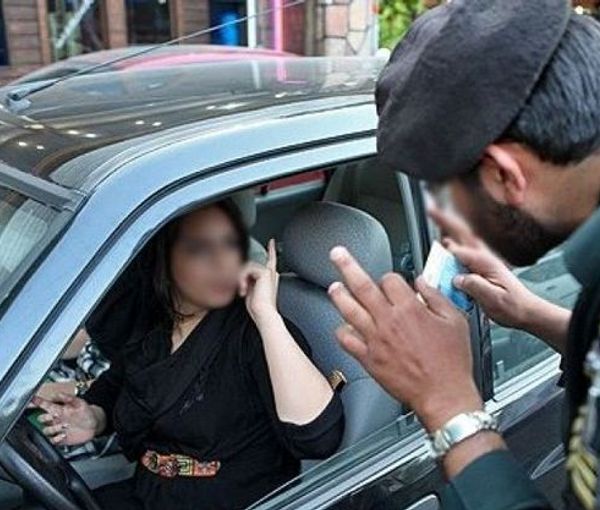 Woman Reported Arrested In Iran After Trampling On Cleric's Turban
A woman in the religious city of Qom was arrested for arguing with a cleric and trampling on his turban after he and another cleric warned her over her hijab.
Hawza News, news agency of Qom's seminaries, claimed Tuesday that the woman had attacked the cleric around two months ago after he had criticized her hijab. Hawza News made no mention of legal action against the two clerics.
The arrest took place after New York-based activist Masih Alinejad tweeted Monday a video of the incident. Alinejad, who has a strong social media presence both in Iran and in the diaspora, is a critic of mandatory hijab in Iran.
In the video, which is undated, the woman attacks a middle-aged cleric, who holds a cane, knocking off his turban and trampling on it. The cleric is seen using his cane trying to hit the woman. She then chases another cleric across the street, before knocking off his turban too, as passers-by gather and watch.
In an interview with Iran International Tuesday, Toronto-based lawyer and activist Mehrangiz Kar said the clerics should have been arrested, and that one had committed a crime by "meddling with a citizen's rights" and hitting her on the head with his cane. The woman had only defended herself, Kar argued.
More than four decades after the Islamic Revolution of 1979, there is still much resistance to the prescribed standards of hijab promoted by the state, which many women refuse to accept even at the cost of being arrested, fined or even lashed.
In recent years, social media has been rife with tens of cases of fights with clerics over hijab and other matters. Some Iranians, including clerics such as Ayatollah Mostafa Mohaghegh-Damad, believe involvement of clerics in governance has damaged the sanctity surrounding them.
Seminaries, religious groups, and many government bodies including the education ministry work at "establishing the culture of modesty and hijab." Seminars, exhibitions, and state television all encourage adherence, and the state-run television airs many programs on the subject.
Qom hosts dozens of seminaries with over 100,000 students, meaning some clerics are alive to any slackening in standards.
Hardliners say adherence to hijab in Qom has hugely diminished in the past few years. "The mushrooming of loose hijab in the holy city of Qom cannot be denied," the news agency of the state broadcaster IRIB said in a report on the situation of hijab in Qom in August.
An activist introduced by her last name, Hosseini, told Fars news agency two years ago that she had organized over 450 'trained hijab patrols' to warn women over poor hijab in Qom. She said her colleagues handed out gifts such as veils, veil pins, and books about the lives of martyrs to women on the streets to encourage them.