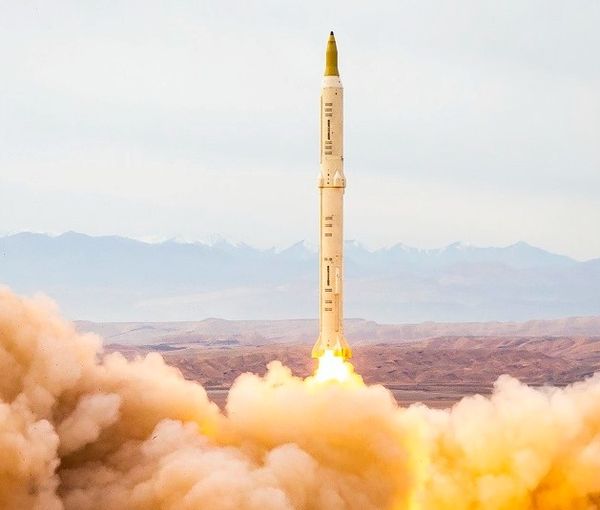 Iran Claims New Missile Guidance System Renders Defenses Ineffective
A senior Iranian commander has claimed that the military has deployed ballistic missiles, which can change targets in flight and render defenses ineffective.
Amirali Hajizadeh, Commander of Iran's Aerospace Force, made the comment on the last day of military drills that began on Monday, saying that hundreds of billions of dollars "the enemy" has spent on defense against ballistic missiles have been wasted.
A ballistic missile has a pre-determined trajectory and target, with a guidance system that can adjust course just to ensure it impacts as close as possible to the pre-determined target. But Hajizadeh said Iranian missiles "can maneuver" and make interception virtually impossible.
On the last day of the large-scale military exercise, codenamed The Great Prophet 17, Iran launched 16 ballistic missiles of different classes simultaneously while 10 of the Aerospace Force's offensive drones also launched a simultaneous operation and destroyed the designated targets, the military said.
During the drills, which took place on the coastlines of the southern provinces of Hormozgan, Bushehr, and Khuzestan, Iran also unveiled 'suicide' and reconnaissance drones as new components of its Ground Force.
Different types of Iranian ballistic missiles shown in pht released on December 24, 2021
The main targets of Iran's long-range ballistic missiles are Israel, possibly US bases in the Middle East and vital oil installations. Israel has one of the world's most concentrated missile defense systems, known as the Iron Dome. US bases are also defended by Patriot and other missile defense systems.
The IRGC chief commander Major General Hossein Salami said on Friday that the drills carried a stark warning to "threats made by the Zionist regime's officials that they need to be careful not making mistakes, and if they do, we will cut off their hands".
Chairman of the chiefs of staff of the Iranian Armed Forces noted that although the maneuver was planned before, it was an appropriate response to the recent threats by Israel.
"These exercises were designed to respond to threats made in recent days by the Zionist regime," Major General Mohammad Baqeri said.
Israel has long threatened military action against Iran, and recently reportedly allocated $1.5 billion for an attack if Iran gets dangerously close to obtaining a nuclear weapon.
The escalation comes as world powers have been discussing the revival of the 2015 Iran nuclear deal (JCPOA) aimed at limiting Iran's nuclear program, which Israel has opposed.
Only hours after the war games ended, Britain condemned the launch of ballistic missiles by the Islamic Republic.
"These actions are a threat to regional and international security and we call on Iran to immediately cease its activities," the UK Foreign Office said in a statement.