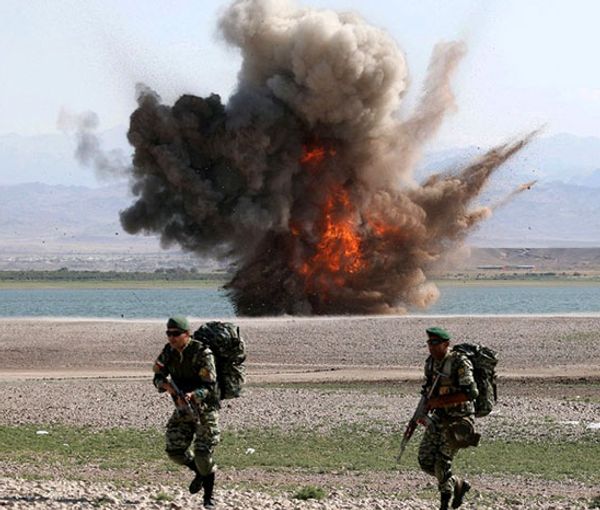 War Of Words Heats Up Between Iran, Azerbaijan, And Israel
Iran-Azerbaijan tension grew Friday as Iranian officials continued to criticize Baku's links with Israel as the Iran military conducted exercises near the Azeri border.
In an interview on the side-lines of the maneuvers, Brigadier-General Kiumars Heidari said Iran would not tolerate any change in Armenia's borders. Some weeks ago Azerbaijan arrested Iranian truck drivers using a land corridor that emerged from the Azerbaijan-Armenia war of 2020 when Azerbaijan acquired Nagorno-Karabakh.
Tehran was also alarmed at Azerbaijan's military drills with Turkey and Pakistan beginning September 12 in Baku, about 250km from the Iranian border.
Abdollah Ganji, managing director of Javan newspaper, which is affiliated to the Revolutionary Guards (IRGC), in a tweet Friday alluded to Azerbaijan being historically Iranian territory. He said Iran had "showed respect and recognized the rulers of Azerbaijan" but warned that they should not use "borrowed power to threaten" Iran.
People living on the two sides of the Aras River, which separates Iran and Azerbaijan, "have had Iranian identity for several thousand years," Ganji continued. The territory was acquired by the Russian empire from the Qajar dynasty after the Russo-Persian War of 1826-28, dividing Azeri speakers between northwest Iran and the Russian empire.
Iran is particularly concerned at Azerbaijan in recent years moving closer to Israel, which is a major oil customer and reportedly allowed to use Azerbaijan's airbases.
Attending the Iranian military exercises, Mohammad-Ali Ale-Hashem, Supreme Leader Ali Khamenei's representative to the northwestern province of Ardabil, accused Israel of "seeking to create disruption and tension in good relations between Muslim countries."
Interior Minister Ahmad Vahidi said Thursday evening during a visit to the northwestern province of Ardabil that Israel and the "enemies of the friendship between Iran and Azerbaijan" had been trying to sabotage their relations.
Iran's ambassador to Azerbaijan, Seyed-Abbas Mousavi, took to Twitter Friday to respond to the Israeli ambassador's tweet claiming that unlike Iran, Israel, the United States and Azerbaijan invested in "diversity and tolerance."
"We have special respect for all Jews, Christians and other followers of the divine religions, " Mousavi tweeted. "But we are sure that the Republic of Azerbaijan and Palestine will remain Islamic countries forever. The dreams of Zionism for this region will never be interpreted."
In an interview with Anadolou, a Turkish state news agency, published Monday, the first anniversary of the 2020 war, the president of Azerbaijan, Ilham Aliyev, said he was "very surprised" that Iran was holding military exercises in a border region and questioned whether they were linked to Azerbaijan acquisition of territory from Armenia.
Many border issues between Azerbaijan and Armenia remain unresolved, and there have been intermittent clashes since May.