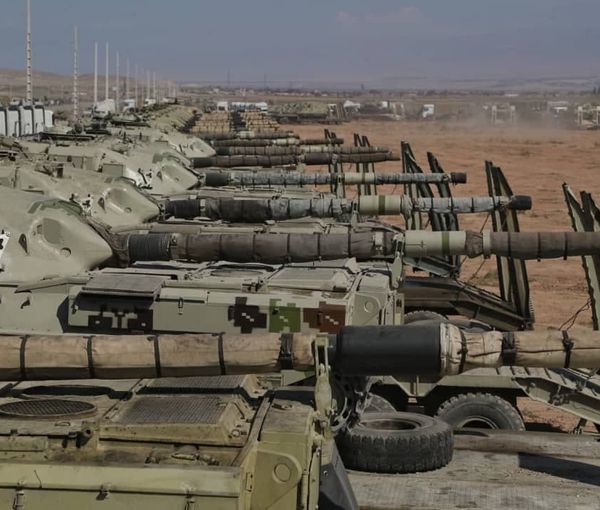 Army Commander Says Iran Will Not Tolerate Changes At Its Northern Borders
The commander of the Iranian army's ground forces says the Islamic Republic will not tolerate any change in the official borders close to the Iranian territory.
Brigadier General Kiumars Heidari's remarks in an interview with the official news agency IRNA, came as a major Iranian military exercise started along Iran's borders with the Republic of Azerbaijan on Friday and videos and photos posted on social media show massive deployment of Iranian forces and military equipment to the region.
Heidari said: "There are unwanted elements in our region who wish to destabilize the region and undermine its security." He added: "We have been more sensitive about developments at our borders since Israeli elements have arrived in our region. We are monitoring their activity."
Last year when the war over Nagorno Karabakh took place between Azerbaijan and Armenia, Iranian officials and military commanders said that there were Israeli elements in the region and that Azerbaijan and Turkey had positioned Syrian jihadist militia in an area close to Iranian borders.
The Iranian commander reiterated, "We have still not been convinced that the terrorists who have come to the region from Syria have left this region," while also insisting that "Iran is sensitive to changes to official borders in its vicinity and cannot accept them."
Photo issued by the Iranian army showing military drills.
In a clear reference to Armenia, which was defeated in the 2020 war, Heidari said, "A possible weakness in one country to protect its borders gives no reason to other countries to change the borders. The Islamic Republic will not allow that." There have been recent signs of Azerbaijan flexing its muscle in the narrow strip of Armenia's southern province that connects Iran with Armenia, Georgia and beyond to the north.
General Heidari further said that the Iranian military exercise "aims to assess and promote the combat readiness of Iranian forces as there are several other military exercises going on in our neighborhood." He added: "There have been four or five exercises north of our borders during the past month and currently Turkey is also carrying out another military drill near our northern borders."
Heidari, however, insisted that Iran has never attacked any country during the past two centuries, and that Iran has stressed on Azerbaijan's territorial integrity while Karabakh was under Armenian occupation.
He insisted that transit journeys in the region should remain safe and secure and the transit routes for trade and energy transfer should be respected by regional countries. He was obviously alluding to the obstruction o Iranian trackers transit journey by Azerbaijan during the past months.
In the meantime, exchanges between social media users from Iran and Azerbaijan have continued during the past 24 hours. A tweet asking Iranian Twitter users whether they would go to war with Azerbaijan if such a war breaks out was "liked" by nearly 600 users, retweeted around 20 times and some 200 users responded that they would go to war with Azerbaijan within a few hours of posting the tweet.
Twitter account Azariha quoted Azbarjani lawmaker Fazil Aghamali as having said that Azerbaijan is capable of responding to a possible Iranian attack. The account answered that it appears that the Azeris have forgotten that the Iranian exercise started as a reaction to a trilateral exercise by Azerbaijan, Turkey and Pakistan in the region and that the Republic of Azerbaijan has violated the Caspian legal regime by extending that exercise into the Caspian Sea.
On September 30, the Twitter account Chamroush posted a video showing Iranian forces rehearsing part of the military exercise by shelling hills at the border area.
Meanwhile, Iranian lawmakers also responded to threats from Azerbaijan on Twitter. Jalal Rashidi Koochi, an MP for Marvadasht and Pasargadae wrote: "There is a limit to Iran's patience. Every bullet shot at Iran will be responded to by firing a missile at those who shoot the bullet as well as other missiles fired at Haifa, Tel Aviv and other Israeli cities."
Mohsen Dehnavi, MP for Tehran wrote in a tweet: "America and Israel have pushed Azeri leader Elham Aliyev into a dangerous scenario in order to create geopolitical changes against Iran and Russia. The heart of 6 million Shiites in the Republic of Azerbaijan pounds for Iran!"
In the Iranian press last week, the only anti-Azeri comment was observed in the Kayhan daily, close to the office of Supreme Leader Ali Khamenei. Kayhan wrote: "Iran will not tolerate changes at its northern borders which are aimed at undermining the interests of Iran and Russia." While pointing the sharp end of its analysis on the Republic of Azerbaijan, Kayhan also attacked Armenia and accused President Nikol Pashinyan of an act of reason against Armenia by accepting a Turkish-US plot."