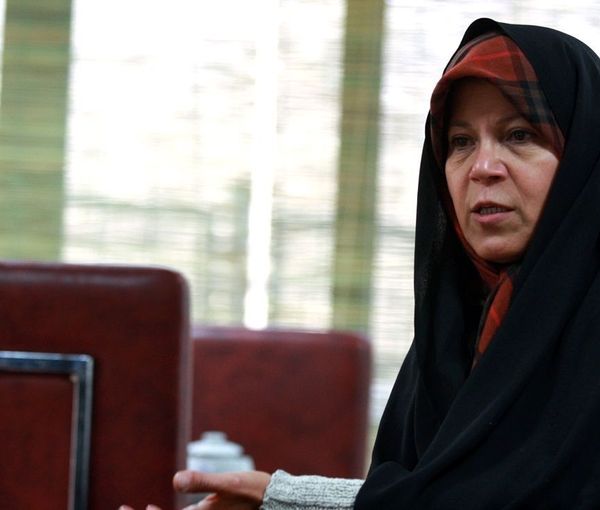 Former President's Daughter Slams Khamenei For Overruling Referendum
In a letter from Evin Prison, Faezeh Hashemi, harshly criticized Supreme Leader Ali Khamenei for unconstitutionally objecting to a referendum in Iran.
Iran International received a copy of the statement Sunday and verified its authenticity.
"Objection to a democratic provision of the Constitution by you is flabbergasting," Hashemi, the daughter of Iran's former president Akbar Hashemi Rafsanjani, wrote while criticizing the "extensive and systematic violation of Iranians' citizen rights". 
"It appears that unwillingly you expressed what was in your heart for a long time in a surprising manner and without attempting to keep up appearances," she said. 
In a speech at a meeting with students on April 18, Khamenei strongly objected to suggestions to allow people to decide crucial matters through a referendum.
"[Who says] the country's various issues can be put to referendum? Where in the world do they do that? [Who says] all the people participating in a referendum have the faculty of analyzing that matter? What kind of demand is that?" Khamenei had rhetorically asked. 
In her letter, Hashemi responded to Khamenei's questions by reminding him of Article 59 of the current constitution, which was approved by a referendum after the Islamic Revolution of 1979. 
Article 59 stipulates that in extremely important economic, political, social, and cultural matters, the functions of the legislature may be exercised through direct recourse to popular vote by holding a national referendum.
She also enumerated some of the most recent referendums in other countries including in Britain's 2014 (Scottish independence) and 2016 (Brexit) as well as Spain's 2017 Catalan independence referendums. 
"How is that Palestinians can decide the type of their government [through referendum] as you have proposed but not the Iranian people? She asked. "It seems that those who support you have the power of analysis and others lack such powers and are sometimes even traitors and mercenaries of foreigners?"
Mostafa Tajzadeh, Iranian reformist politician and a senior member of Islamic Iran Participation Front
Faezeh Hashemi and several other political prisoners including former reformist Deputy Interior Minister Mostafa Tajzadeh and prominent political commentator and researcher in poverty, drug addiction, child abuse, and prostitution, Saeed Madani in a statement in February said they would do their best to advance the proposal to hold a referendum and a peaceful and non-violent transition to a completely democratic and developed political structure in the country. 
"The only way out of the impasse for the government is to surrender to the right of the people to determine their own destiny," they declared. 
Former President Hassan Rouhani and others, mainly reformist politicians, have repeatedly suggested holding referendums on "important issues" in domestic and foreign policy. 
On April 5, Rouhani for a second time since the beginning of nationwide protests in mid-September said the answer to people's demands in the areas of foreign and domestic policies and the economy could be found by holding referendums as envisaged by the Constitution of the Islamic Republic.
In February, former Prime Minister (1981-1989) and leader of the 2009 Green Movement Mir-Hossein Mousavi, who was a reformist presidential candidate in 2009 and has been under house arrest since 2011, said in a statement dubbed "To Save Iran" that there was no hope of reforms and demanded a free and untainted referendum about the necessity for a new constitution.
Such a referendum could potentially put an end to Velayat-e Faghih (rule of the Islamic jurist) which gives a cleric such as Ali Khamenei extraordinary powers including the power to overrule all elected bodies and officials and hence, people's choice. 
Any request for such direct recourse to public opinion must be approved by two-thirds of the members of parliament according to the Constitution. This condition practically blocks any chance of a referendum as currently the parliament is dominated by hardliners and Khamenei loyalists.