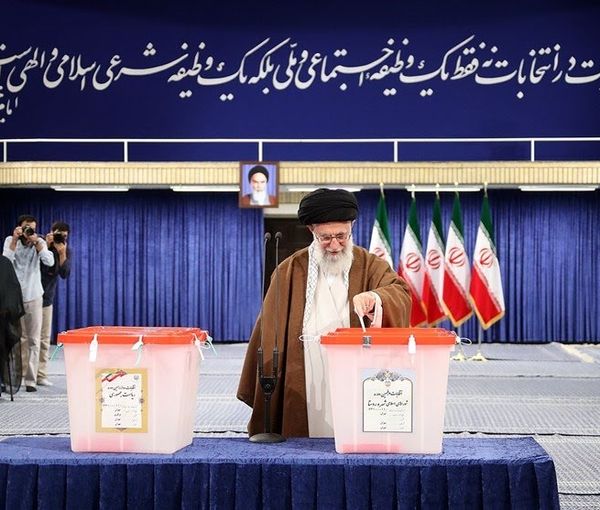 Regime Politicians In Iran Wrangle Ahead Of 2024 Vote
Ten months before parliamentary elections in Iran, the 'reformist' and centrist factions of the regime are already concerned about an electoral candidate purge.
Hardliners, who packed the parliament in 2020 with help from the Guardian Council, which barred most other candidates, are seen as determined to hold on to power.
There is also near unanimous consensus among non-hardliners that voter turnout will be very low in the absence of competition, at least among regime factions.
Jahanbakhsh Mohebbinia, a former Iranian lawmaker close to ex-Speaker Ali Larijani has accused media outlets close to the Revolutionary Guard (IRGC) of spreading fake news to create an atmosphere of excitement ahead of the upcoming parliamentary election.
Recently IRGC-linked Tasnim news agency spread rumors about former President Hassan Rouhani and former Parliament Speaker Ali Larijani allegedly considering the idea of running for the parliament. However, Larijani issued a terse response, alluding to "purification" efforts by hardliners.
Referring to Iranian ultraconservatives in the parliament, Mohebbinia said, "They are individuals who had no part in the 1979 Islamic revolution but occupied the country's power centers."
Jahanbakhsh Mohebbinia, a former Iranian lawmaker
Some Iranian media including Rouydad24 website say there is no election mood in the country, although in the previous rounds of elections unofficial campaigning started more than one year before the election. 
Mohebbinia said that hardliners wish to make Larijani angry so that he would make a few controversial comments. He said such methods are "unethical."
"With these news fabrications, Tasnim wishes to ensure a high turnout in the election," said Mohebbinia, adding that "Certainly, the turnout in this round is likely to be as low as the previous election [barely above 20 percent in big cities and around 40 percent in small towns].
Mohebbinia added some moderate conservatives in Iran wish to see Larijani as Iran's next President and Expediency Council member Mohammad Javad Bahonar as the Speaker of the Parliament.
Meanwhile, the leader of the ultraconservative Paydari Party Sadeq Mahsouli told Tasnim news agency: "Our strategy in the upcoming elections is quite clear. We try to elect the best individuals. Currently we are scoring possible candidates and those who score higher will be included in our list of candidates." 
Leader of the ultraconservative Paydari Party Sadeq Mahsouli
Mahsouli added: "We have our own red lines, and we will not make any compromise. However, we are prepared for cooperation with other political groups who share our values." However, he did not elaborate on those values and red lines. 
In the reform front, former Vice President Mohammad Reza Aref said: "We need to make big decisions for the country. There are big lessons for us in the Turkish elections."
Aref who is known for his "strategy of silence" and for speaking in vague terms to protect himself against reactions, possibly meant that Iran should introduce democratic processes in its election system and do away with the arbitrary vetting by the Guardian council, which disqualifies reform-minded candidates. He said, "the state [regime] should value the political elites' qualifications rather than making decisions based on a security approach."
In another development, Hossein Naqashi, a member of the Central Committee of the reformist Unity of Nation Party said that the Guardian Council's approach will do harm to the elections. He warned that Iranians still remember the scars of recent protests and voters may not go to the polls even if there are well-known candidates in the elections.
However, it looks highly unlikely that "well-known individuals" would ever be permitted to run for any election. According to Rouydad24, Iranian Interior Minister Ahmad Vahidi on Tuesday told Mehr news agency that he has ordered government offices to fire, as soon as possible, all the managers appointed by the former government under the relatively moderate President Hassan Rouhani. This looked like what Larijani characterized as purging or purification.