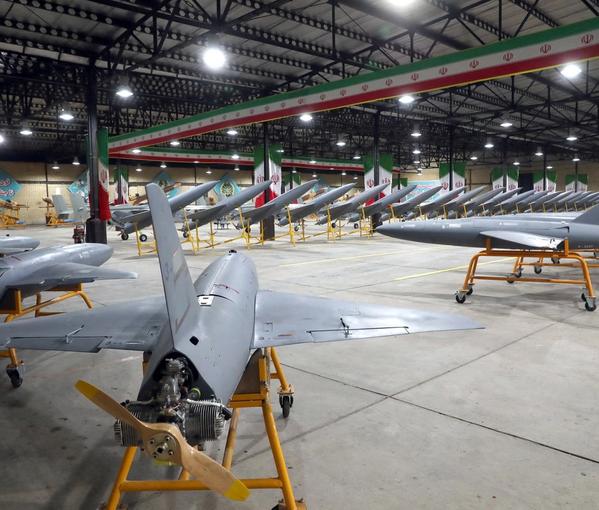 Israel Reveals Iran's Secret Underground Drone Base
A secret underground drone base of Iran's Revolutionary Guards (IRGC) has been uncovered by an Israeli security think tank.
The location in the southwest of Iran was revealed Monday by Alma center, a non-profit research organization which focuses on the security challenges on Israel's northern borders.
The UAV base is carved into the Zagros mountains near Shiraz, Fars province, according to a video released by Alma. The location is about 10km from Shiraz airbase, which also houses the air force's SU-24 jets of the 72nd tactical fighter squadron. 
The base's proximity to the strait of Hormuz in the Persian Gulf "threatens the entire Middle East at any given moment", Alma warned. 
Satellite footage provided by the center shows the drone base consists of a site for a "swarm" – a coordinated unit of multiple drones – and a command-and-control center. 
The swarm base has at least five UAV launch silos as well as three access tunnels and a loading dock tunnel.
The UAVs that can be launched from the silos are Shahed, the same kamikaze attack drones the regime is supplying to Russia for its invasion of Ukraine.
The underground base is at least 3km long with an entrance near Shiraz industrial town, where parts are probably made or assembled.
The 2,000km range of Iran's attack UAVs drones allowed it attack sites beyond Israel as far as Cairo, Alma claimed.
A screenshot from Alma video showing location of a secret underground drone base
The Iranian authorities have released images of drone bases but never disclosed their locations. 
Last year in March, Israeli media reported that an Israeli aerial attack destroyed hundreds of drones at an IRGC airbase in the Iranian province of Kermanshah. Six Israeli drones struck the base in Mahidasht region near the western city of Kermanshah in a covert operation. In response, Tehran pounded Iraq's Kurdistan region with missiles for week, claiming the targets were bases used by Israel.
In April, Iran released footage of top brass visiting a large underground base housing a large number of drones. Earlier, in February, Iran revealed an underground air force base called
Iran's Army chief Major General Abdolrahim Mousavi and Defense Minister Brigadier General Mohammad-Reza Ashtiani visit a drone site at an undisclosed location in Iran, in this handout image obtained on April 20, 2023.
"Eagle 44", saying it is the first of its kind large enough to house fighter jets, with reports that the base is also capable of storing and operating drones. Iran's lack of a viable modern air force due to long-running sanctions and arms embargoes leaves it mostly relying on missiles and drones.
There has been growing speculation recently over an Israeli air attack on Iran to contain its military program. The US and Israel held large-scale drills in January in possible preparation for such an attack.