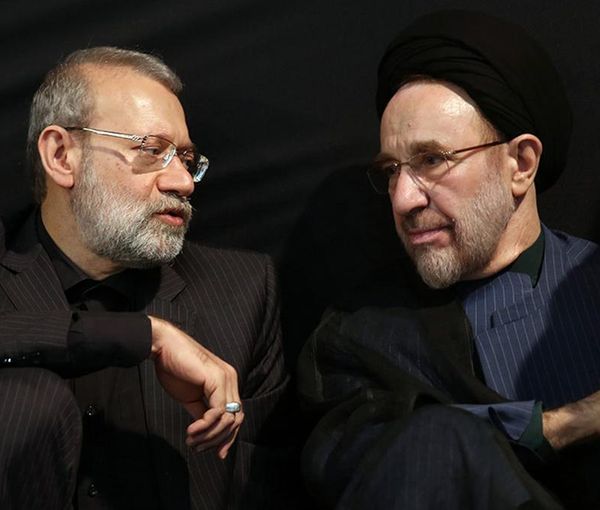 Former Iranian President Speaks Out Against Regime Failings
Former President Mohammad Khatami says Iran's Islamic revolution has deviated from its path and ex-parliament Speaker Ali Larijani argues for major policy changes.
Khatami has reiterated in a meeting with teachers that Islamic Republic's policies are self-destructive and suggested that the government should embark on reforms. Khatami pointed out that governance in Iran needs to be reformed if the Islamic Republic is to survive. 
He further suggested that all social groups in Iran should follow the non-violent style of Iranian teachers' protests. He further said that the government should represent the people and the people should be able to replace the government. This can be achieved though free and fair elections, adding that in an ideal system everybody should have equal right to power, wealth and status. 
"A regime change in Iran is impossible, but the government is undermining itself. I suggest it reform itself instead," the mild-mannered reformist politician said.
Khatami who was president from 1997-2005 tried to boost freedom of speech in his first time but he was over-ruled by conservatives supported by Supreme Leader Ali Khamenei, who closed dozens of newspapers and cracked down on dissidents.
Meanwhile, former Majles Speaker Ali Larijani in a sarcastic letter denying an IRGC-linked Tasnim news agency report that the he was preparing to run for parliament in early 2024, said: "The country needs a change in policy." He also accused Iranian hardliners of purging the political landscape of moderate voices. 
Reformist commentator Sadeq Zibakalam
Reformist commentator Sadeq Zibakalam in an article interpreted Larijani's statement as meaning that "existing policies cannot stand any longer." 
He said Larijani has used the word "purification" rather than purging in his letter as a political detour to evade a harsh response by the government. However, he meant that the regime can no longer continue the policies it has been following during the past 44 years. What Larijani wants, said Zibakalam, is "a revision of Iran's political structure."
Zibakalam added: "In a nutshell, the government needs to ask itself whether the country's main problem is political or economic or social. What has led to the sulking of the post revolution generations with the government? Why there is so much despair and disillusionment in the society? In fact, Laijani has used the word purging or purification to make sure that he will not be accused of sympathy with protesters, opposition or counter-revolutionaries."
Zibakalam also referred to the term "artificial [political] competition" in Larijani's letter where he said: "It is unlikely that you can create artificial competition ahead of the election [by spreading disinformation about the participation of moderate political figures]." 
Zibakalam said: "In fact, the protests last year shook many state officials. Larijani and individuals like him have realized that wrong policies of the government have pushed the country into a dead-end. What he is saying is that if the government continues those policies, even political figures such as him will find the election meaningless. And what is more important is that apart from the elections, the country is suffering from this chaos."
Zibakalam explained: "Other moderate and realist political figures and groups should also come to the conclusion that an election which is not free and fair would be meaningless. Even some conservatives should understand that. If nothing changes, only the ultraconservative Paydari Party and radical groups will take the 2024 election seriously." 
The outspoken commentator, who has somehow evaded arrest so far, said that with the Raisi administration's economic failure, more moderates and moderate conservatives such as Larijani will demand a change in policies.