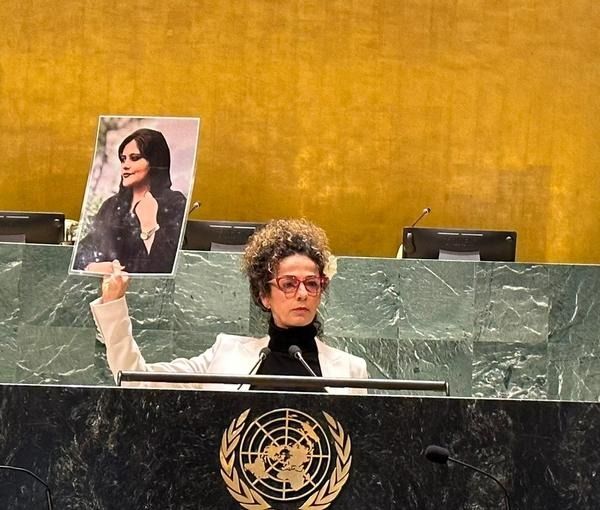 Iranian Regime Biggest Oppressor Of Media Freedom: Iranian Activist
Iranian prominent activist Masih Alinejad said at the UN that the leaders of Iran are the biggest oppressors of media freedom in the world.
On the occasion of the World Press Freedom Day, Alinejad told the UN General Assembly that she comes from a country where being a journalist is considered a crime and causes people to be imprisoned.
UNESCO has planned two major events in New York, including a global conference at the United Nations headquarters, to commemorate the 30th edition of World Press Freedom Day.
She further talked about the threats of the Islamic Republic against Iran International and other Farsi-language London-based media, saying that she proposes a resolution in this regard to condemn the international repressions of the Iranian regime.
Speaking about the Islamic Republic's fear of social networks, she added that Supreme LeaderAli Khamenei has restricted social media for people, but the government officials have accounts on the networks.
"I held up a picture of Mahsa Amini‌ from the very same podium that butcher Ebrahim Raisi raised a picture of terrorist Qasem Soleimani in September. The picture of Mahsa Amini represents the real Iran. Raisi and Soleimani do not," she said in a tweet.
The Islamic Republic through its propaganda tries to show ex-IRGC commander Qassem Soleimani as a national hero, but many people believe he was guilty of war crimes against civilians in Syria and spreading violence across the region.
She also slammed the imprisonment of Elaheh Mohammadi and Niloufar Hamedi, two journalists who reported the murder and funeral of Mahsa Amini, the 22-year-old Kurdish who was killed in police custody in September.