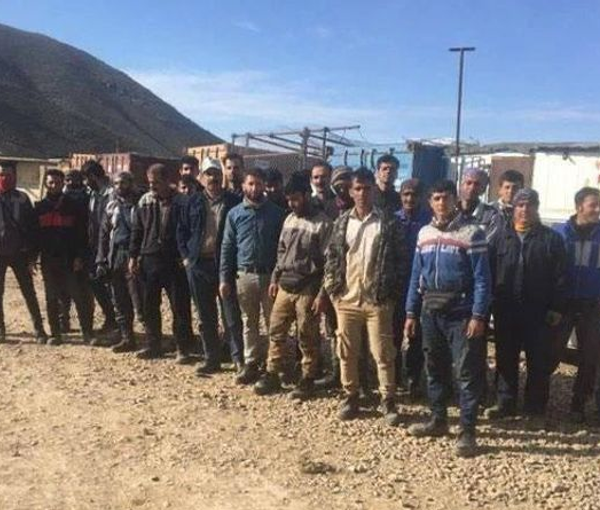 Exclusive: Worker Portrays 'Hidden Slavery' At Iran's Energy Firms
As more and more workers of Iran's energy sector are going on strike, Iran International has obtained information that sheds light on their inhumane working conditions. 
In an audio file sent to Iran International and verified by our contacts, a man recounts the ordeal of contract workers in the companies active in oil, gas and petrochemical industries. 
The worker especially talked about the case of himself and his colleagues working under contract by the Persian Gulf Petrochemical Industries Corporation, aka Persian Gulf Holding, where a $170-million embezzlement case at one of its subsidiaries put the company on spotlight last winter.
Persian Gulf Holding is a large Iranian quasi-governmental company that claims to be an independent entity but practically it is a large part of the government-controlled energy industry with 15 subsidiaries. Regime insider Abdolali Ali-Asgari – a former head of the country's state broadcaster is the current CEO of the company. 
Abdolali Ali-Asgari, the CEO of Persian Gulf Petrochemical Industries Corporation
Describing their situation as "stuck in hidden slavery," the worker says the problems stem from the special status of a few well-connected senior managers and systematic corruption in the energy industry. 
"Iran's oil industry mafia takes advantage of the workers, especially project and contract workers, and forces them to work in terrible conditions," he said.
With double-digit unemployment and ever-falling currency, workers have little choice to find other employment paying them more than the minimum wage of $120 a month. 
Workers' lives are not important for managers; wages are meager and are paid with delays; there are no weekend breaks; the managers are selected from those with links to senior officials and do not do anything but sit in their ivory towers with their laptops; and when workers go on strike to demand changes, the security forces threaten the them and their families to break their strikes. These are just some of the gravamina of the worker in his audio file. 
He went on to say that several workers have died in the past few months due to non-compliance of companies with safety issues, but the authorities do not let such incidents to be reflected in mainstream media. 
The worker claimed that the firms which employ them sign contracts with the government in euros and dollars but pay workers in rials and often two or three months late. 
One of the main reasons that the information about the plight of oil industry workers does not make news is that their workplaces are usually located in remote areas with poor connectivity to big cities, making them vulnerable to pressure by their employers.
In an interview with Iran International on Sunday, journalist Reza Hajihosseini described the situation of these workers as a case of "dehumanization," noting that the way the employers treat the workers reminds us of a leaked video showing how jailors treated prisoners in Tehran's notorious Evin prison. 
Javad Abbasi Tavallali, a journalist with firsthand experience about the working conditions in Asaluyeh -- a city in Bushehr province and home to the majority of the country's energy plants and refineries – told Iran International that almost all these government contractors, such as Petro Sina Arya, PetroPars, and Petro Paydar Iranian, are affiliated with the Revolutionary Guard. 
"These companies make the best use of a lack of media coverage about their actions and a lack of workers unions," he said, adding that "the exploitation and the disasters that are taking place in Asaluyeh are known to the government thanks to regular reports by Khatam-al Anbiya Construction Headquarters – the engineering wing of the IRGC – for decades."
The worker's statement comes on the backdrop of a renewed round of strikes by Iranian factory workers, including workers in the country's oil industry. 
Since Saturday, workers of more than 30 oil, gas, steel and petrochemical companies in Asaluyeh and Kangan in Bushehr province, Dehloran in Ilam province, Gachsaran in Kohgiluyeh and Boyer-Ahmad province, and many more started another round of strike demanding wage increases in the face of more than 50 percent annual inflation.