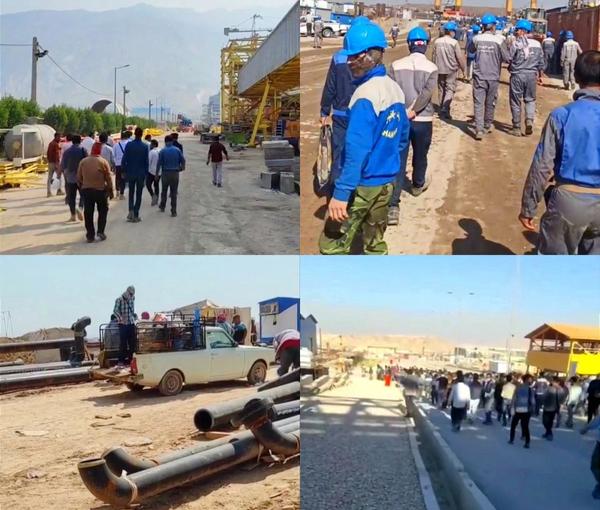 Iran's Oil, Gas Industry Workers Go On Strike
Workers of the oil, gas and petrochemical industries in Iran have gone on strike demanding wage increases in the face of more than 50 percent annual inflation.
Countless contract workers in oil, gas, petrochemical and steel industries in the southern cities of Asaluyeh, Dehloran, Gachsaran, Kangan, etc., stopped working on Saturday demanding a raise based on their proposed list which should be 79%.
At the same time, a conference was held in the city of Cologne, Germany, to express support for trade and civil unions of Iran.
According to reports, over 80 parties and organizations as well as 1,500 activists supported the initiative by the conference.
Back in February, twenty independent trade unions and civic institutions in Iran jointly published a charter, outlining their main demands to end the current inhumane situation.
Wages for most workers are around $120-150 a month, while a family of four needs $450 for its bare minimum needs.
In a statement, they said that 44 years after the establishment of the Islamic Republic the country's economic, political and social situation has plunged into a "vortex of crisis and disintegration."
They added that no clear and attainable prospect can be envisioned to end the current situation within the existing political framework, calling for building a new, modern and humane society after the Islamic Republic.
Outlining 12 main demands, they called for the release of all political prisoners, prohibition of criminalizing political, union, and civil activities, public trial of the leaders and perpetrators of the violence against protesters, unrestricted freedom of opinion, expression and thought, assembly, and social media as well as policies to preserve natural resources and ending environmental degradation.