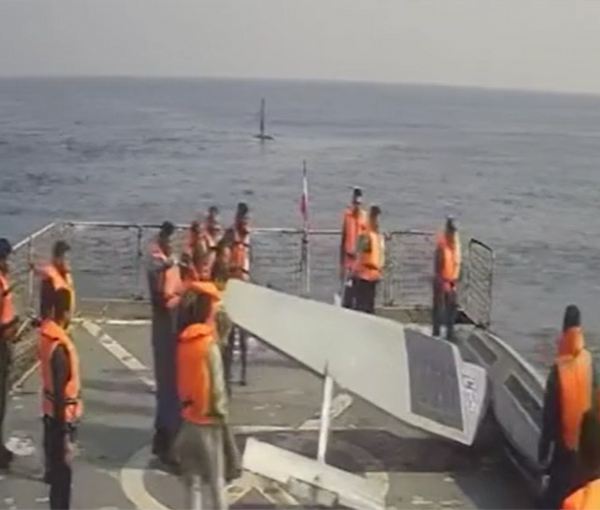 US Navy Sails Drone Through Strait Of Hormuz, As Iran Watches
The US Navy sailed its first drone boat through the strategic Strait of Hormuz Wednesday, where American sailors often face tense encounters with Iranian forces.
The trip by the 13-meter (41-foot) speedboat carrying sensors and cameras, drew the attention of Iran's Revolutionary Guard, but took place without incident, said Navy spokesman Cmdr. Timothy Hawkins.
Two US Coast Guard cutters accompanied the drone.
Iran announced last September that it had seized and released two US naval drones in the Red Sea. The US confirmed the claim but refused to comment.
But the passage through the Hormuz was without incident. The strait is a busy waterway between Iran and Oman which at its narrowest is just 33 kilometers (21 miles) wide.
A fifth of all oil traded passes through the strait, which connects the Persian Gulf to the Gulf of Oman.
"The Iranians observed the unmanned service vessel transiting the strait in accordance with international law," Hawkins told The Associated Press.
He said an Iranian drone and at least one Houdong-class fast-attack vessel operated by Iran's Revolutionary Guard observed the MAST-13 drone.
The US Navy's Bahrain-based 5th Fleet patrols Mideast waters, particularly the Persian Gulf and the Strait of Hormuz, to keep open the waterways for international trade, as well as protect American interests and allies.
However, Iran views the Navy's presence as an affront, and vows to expel US forces from the Middle East.
The 5th Fleet launched a special drone task force last year, aiming to have a fleet of some 100 unmanned drones, both sailing and submersible, operating in the region with America's allies.