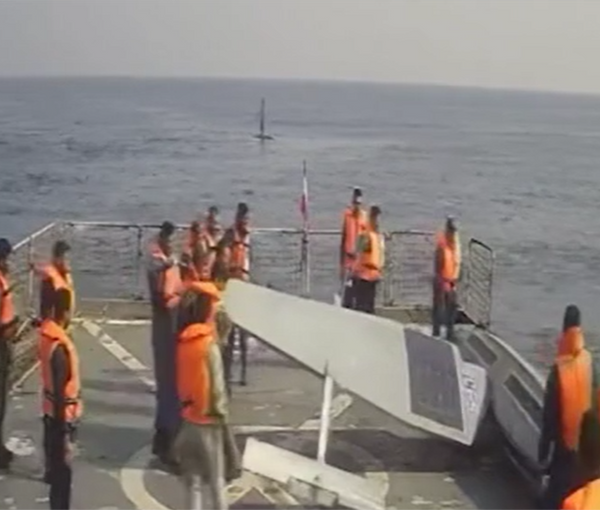 Iran Seizes And Releases Two US Sea Drones In Red Sea
Iran says its navy seized two American sea drones in the Red Sea but later released them, the second such incident involving the US Navy's drone fleet in the Mideast this week.
Iran's state broadcaster reported on Friday, "The (Iranian navy) frigate Jamaran seized the two vessels on Thursday to prevent any possible accident after issuing warnings to the US fleet," accusing the unmanned vessels of jeopardizing maritime safety. 
"After securing the international shipping waterway, the Naval Squadron No. 84 released the two vessels in a safe area," the report added.
The state television also aired footage that appeared to show more than a dozen lifejacket-wearing Iranian navy personnel pushing two Saildrone Explorers into the sea from the deck of their vessel, as another warship could be seen in the distance.
Later in the day, Commander Timothy Hawkins, a spokesman for the Navy's Mideast-based 5th Fleet, confirmed the incident to The Associated Press but declined to elaborate.
On Tuesday, the US Naval Forces Central Command said that ithe US Navy prevented a support ship from Iran's Revolutionary Guard's Navy -- named Shahid Baziar -- from capturing an unmanned vessel operated by the US 5th Fleet in the Persian Gulf.
The 5th Fleet launched its unmanned Task Force 59 last year, with an area of responsibility covering the crucial Strait of Hormuz, the narrow mouth of the Persian Gulf through which 20 percent of all oil passes, and stretching as far as the Red Sea reaches near the Suez Canal, the waterway in Egypt leading to the Mediterranean, and the Bab el-Mandeb Strait off Yemen.