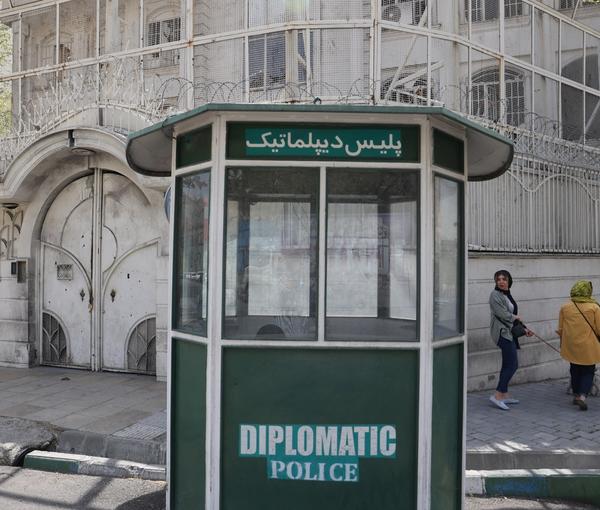 Tehran Beating The Drums Of Economic Windfall From Ties With Riyadh
Government media and regime supporters in Iran have been speculating about the economic benefits of restored diplomatic ties with Saudi Arabia, amid domestic crisis.
Dozens of articles and interviews have been published in Tehran media in the past month on a possible economic windfall, since China brokered a deal between Iran and Saudi Arabia to re-establish relations after a seven-year bitter animosity.
The reason for the high degree of Iranian interest in economic and trade ties are clear. Saudi Arabia has turned into a financial and economic power house, not only in the region but in the world. Its influence in the energy market is on the rise with the latest OPEC+ agreement to further reduce oil production and keep prices high.
Saudi Arabia's GDP has grown from $200 billion to more than $800 billion in the past 20 years, while Iran has been subjected to international and US sanctions with its energy and non-oil sectors struggling to stay afloat.
By the most optimistic estimates, Iran's GDP is less than $250 billion, down from $480 billion in 2016, and even Iraq, with all its internal problems has caught up with its much larger neighbor because of relentless and rising volume of oil exports. Non-oil producing Turkey has long surpassed Iran by a more than $800 billion GDP.
Iran has become a small and insignificant oil exporter since the United States imposed crippling third-party sanctions on its energy and banking sectors in 2018, when former President Donald Trump withdrew from the JCPOA nuclear deal, demanding major concessions from Tehran.
Mehdi Alipour, a member of Shiraz Chamber of Commerce
However, an Iranian businessman, Mehdi Alipour, speaking with FarazDaily website in Tehran explained that many Sunni Arab countries in the region, such as Egypt, Jordan and the Emirates follow Saudi Arabia's foreign policy line and if Tehran establishes good ties with Riyadh chances are that it will also secure more trade opportunities.
Iran's main non-oil exports are petrochemicals, steel and agricultural products, but so far except in Iraq, it has a very small share of the market in other Arab countries.
In case of Saudi Arabia, chances are that Iranian products would not be able to compete with Chinese imports, like in many other markets. The only advantage Iran has is its geographic proximity, but not the volume of production that makes cheaper products possible.
China exported almost $30 billion of goods to Saudi Arabia in 2021, a year marked with the Covid pandemic. There are no final figures for 2022.
However, any significant uptick in Iranian exports depends on removing US economic and banking sanctions. Even Iraq that imports natural gas and electricity from Iran does not pay in cash and it owes Tehran more than $11 billion. Iranian funds are kept in Trade Bank of Iraq and the Islamic Republic can only buy humanitarian essentials with the money in Iraq.
Wang Yi, China's chief diplomat, Ali Shamkhani (R), Iran's national security chief, and Saudi representative Musaad bin Mohammed Al Aiban in Beijing, March 10, 2023
Iranian media also hint at potential Saudi investments, although this seems a more far-fetched proposition than trade. Domestic and foreign private sectors have a tough time in investing confidently in the current circumstances in Iran with draconian government interventionism and the state directly or indirectly controlling 80 percent of the economy.
Saudi Government investments could be a different matter, but even China has pulled out of Iran after initial attempts to get a foothold a decade ago.
It seems that most of the talk in Iran about an economic windfall from relations with Saudi Arabia are aimed at instilling optimism among the people and helping the battered local currency with spreading positive news.