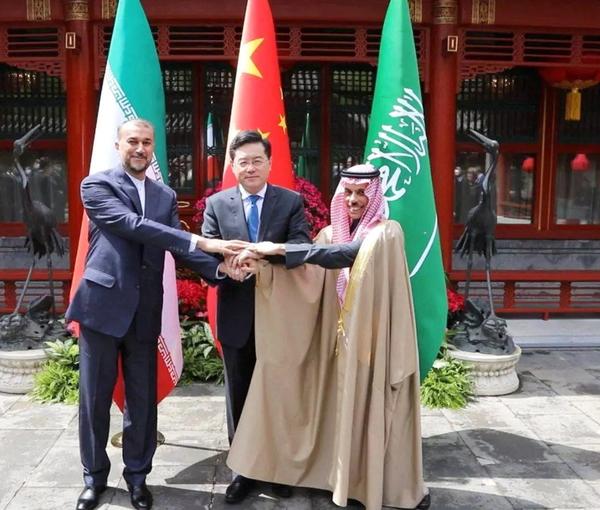 Tehran Expecting Economic Windfall From Renewed Ties With Riyadh
Iran's government-controlled media is speculating about the direct economic benefits of restoring relations with Saudi Arabia, amid a deep economic crisis.
Although it is not clear how far the Saudis are willing to go in developing ties with Iran, the hard-pressed government in Tehran is encouraging expectations of a big windfall.
The government's official news website IRNA Saturday carried a lead article titled, "Expansion of trade relations with Saudi Arabia, an important leap for Iran's economy." There were also similar opinions in other websites.
IRNA's article carried no concrete information about when and how economic relations will expand with Riyadh, while Tehran is under US sanctions. IRNA, in fact, presented a wish-list.
Meanwhile, Saudi officials arrived in Iran to discuss procedures for reopening Riyadh's embassy in Tehran and consulate in Mashhad, the Saudi foreign ministry said on Saturday.
The only concrete hope Tehran can have is easing financial and commercial restrictions by the United Arab Emirates, close ally of Saudi Arabia, for potential Iranian attempts to circumvent US banking sanctions. Washington will be certainly watching the situation, but any Saudi acquiescence in helping Tehran indirectly break sanctions could be a blow to the United States pressure policy on the Islamic Republic.
CIA Director William Burns visited Saudi Arabia this week to reaffirm intelligence cooperation, a US official said on Thursday, as the kingdom on the same day Iranian and Saudi top diplomats met in Beijing to start the process of re-establishing diplomatic ties.
China's role in arranging the deal was seen by some experts as signaling a decrease in US influence with Saudi Arabia amid tensions between Washington and Riyadh over a number of issues, including human rights and Saudi oil production cuts.
"Director Burns traveled to Saudi Arabia, where he met with intelligence counterparts and country leaders on issues of shared interests," the U.S. official said on condition of anonymity.
If not on the economic front, the Saudi-Iranian rapprochement is already giving diplomatic and security dividends, at least in reducing tensions in Yemen.
Saudi and Omani envoys are planning to visit Yemen's capital Sanaa next week to negotiate a permanent ceasefire deal with Iran-aligned Houthi officials, according to Reuters, and end an eight-year-old conflict there, two people involved in the talks said.
Oman, which shares borders with Yemen and good relations with both Riyadh and Tehran, has been trying for years to bridge differences between Yemen's warring parties, and more broadly between Iran and Saudi Arabia and the United States. A permanent ceasefire in Yemen would mark a milestone in stabilizing the Middle East.
If an agreement is reached, the parties could announce it before Islam's Eid holiday starting April 20, the sources said.
Right before news of a possible peace visit to Sanaa by Saudi and Omani representatives, the Saudi led military coalition lifted eight-year-old restrictions on imports headed for Yemen's southern ports, the internationally recognized authorities said, in a sign that peace talks are progressing with the Houthi group in the north.
This follows the easing of restrictions in February on commercial goods entering the Houthi-held western port of Hodeidah, the country's main seaport, as Yemen's warring sides work to reinstate an expired UN-brokered truce deal.
The Saudi-backed government based in the south said in a statement late on Thursday that commercial ships would be allowed to dock directly in southern ports, including Aden, and all goods would be cleared, with some exceptions.
Abu Bakr Adeed, deputy head of Yemen's Chambers of Commerce, told Reuters ships would not have to stop at the Saudi Red Sea port of Jeddah for security checks for the first time since the Saudi-led coalition intervened in Yemen in 2015.