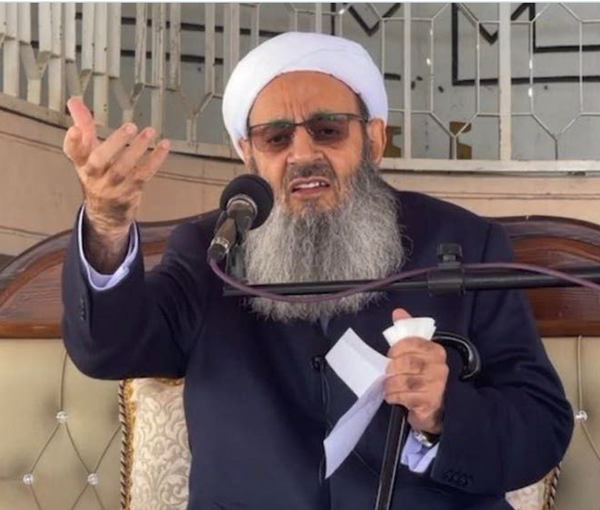 Sunni Cleric Calls On Islamic Republic To Respect Women's Rights
Zahedan has been a scene of regular protests for the past several months with its Sunni cleric Mowlavi Abdolhamid delivering Friday prayer sermons decrying regime atrocities.
April 7 was the 27th Friday in a row that the people of Zahedan held demonstrations in support of the "Women, Life, Liberty" movement after listening to Friday prayer sermons by Abdolhamid, who has proven to be the unofficial voice of the country's Sunni population, constituting approximately 10% of Iran's 88 million population.
While the regime had shut down the internet in the city again, its citizens held another round of rallying, which was held in silence again to respect the holy month of Ramadan.
Abdolhamid's speech on Friday was mainly themed around the crackdown on the women who reject the Islamic Republic"a mandatory hijab rules and the mismanagement in the country that has led to serious economic woes.
While recommending women to "respect" hijab laws, he said that Iranian women are "angry because they feel that their rights are not respected."Abdolhamid claimed that women are respected in Islam and different cultures, adding that "violent confrontations" with women by the police and hijab enforcers will not bear positive results.
Implicitly referring to the recent détente between Tehran and Riyadh, he said that the internal developments of the country are "10 times more important" than foreign relations. The government must "establish a relationship with its people," he added.
The Sunni majority city's top cleric also repeated calls for the release of political prisoners and investigation into the killing of protesters in the Sistan-Baluchestan province, especially on the September 30, 2022, often called the Bloody Friday.