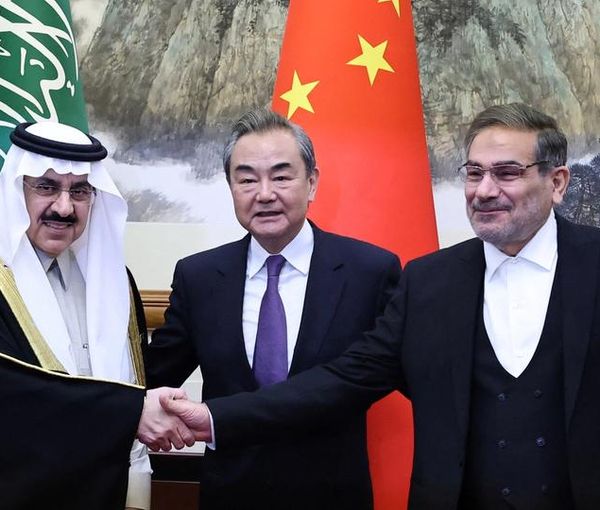 Iran's Foreign Ministry Is Side-Lined, Ex-Diplomats Say
Senior Iranian regime officials are trying to dismiss criticism that the foreign ministry is not up to the job, after other top officials went on diplomatic missions.
National security council secretary Ali Shamkhani was the first official tasked by Supreme Leader Ali Khamenei to travel to China in early March and sign an agreement with Saudi Arabia to restore diplomatic relations. This was followed by Khamenei's foreign policy advisor Kamal Kharrazi and former nuclear negotiator Abbas Araqchi traveling to Syria and Lebanon last week.
These missions did not escape the attention of local commentators who noted the absence of the foreign ministry in these high-level diplomatic initiatives.
However, Kharrazi tried to dispel criticisms on Tuesday saying there was full coordination among the regime's institutions.
Khamenei's foreign policy advisor Kamal Kharrazi
Shamkhani also visited the United Arab Emirates and Iraq this month to sort out some other issues with those countries. Kharrazi, the Chairman of the Strategic Council of Foreign Relations, a council of former diplomats that reports directly to Khamenei, said at the end of his missions to Damascus and Beirut that those who see the involvement of Khamenei's aides in foreign policy as lack of coordination did not know anything about how Iran's foreign policy works.
He called his missions to Syria and Lebanon "successful," without providing any information about the purpose of the visits. He added that doubting the foreign ministry's efficiency is not in the interest of Iran's foreign relations. Kharrazi reassurance about "coordination" contradicted the latest news about the appointment of former deputy commander of the IRGC's Qods Force Hossein Akbari as Iran's ambassador To Syria.
Former diplomat Ghasem Mohebali told Entekhab news website in Tehran Tuesday that the current situation has occurred because Amir-Abdollahian is not a political figure at national level.
Despite explanations by Kharrazi, many Iranian politicians believe that the foreign ministry has been side-lined during the past weeks. According to Mohebali, former Foreign Minister Javad Zarif had warned against the intervention of economic and security officials in foreign policy.
Mohebali said that "decisions about foreign relations and security in Iran are usually made at a place other than the cabinet," implicitly referring to Khamenei.
He said it is a known fact that whenever foreign ministry experts are undermined or undercut, parallel organizations begin to make decisions and that is what is happening now. "First they took the nuclear issue off the foreign ministry's hands, and gradually they are taking over the ministry's other responsibilities."
Former diplomat Fereydoun Majlesi
Meanwhile, another former diplomat, Fereydoun Majlesi, told Rouydad24 news website that "currently, Iran's foreign policy is being determined by fundamentalist hardliners, but ideology always makes diplomacy difficult."
He charged that Iran's foreign relations problems have been created by strongly biased individuals who act beyond every previously declared ideal. He further added that this has also affected Iran's relations with Saudi Arabia.
"It was not Iran that made the agreement with Saudi Arabia. In fact, China and the Kingdom of Saudi Arabia as well as countries such as Iraq, Qatar, the UAE, Oman…were also involved in the political dynamic that led to the agreement," Majlesi said.
Former diplomat Ghasem Mohebali
He added that perhaps some countries outside the region such as Japan, South Korea and even the United States were also involved. However, the deal was more important for Tehran than the others as it is under the pressure of sanctions and is struggling to come out of the deadlock where it is entangled. China wants safe routes for its energy and trade and likewise, the United States also wants the area to be calm and regional states also benefit from this détente.
"Iran has realized that the ideals of the Islamic revolution are not in conflict with economic necessities. It was hostage taking and war and the ensuing tensions that caused trouble for Iran." Majlesi concluded: "The economic difficulties including rising inflation cannot be solved without a revision of the statesmen's political views. They will inevitably force the officials to make compromises and come to terms with others. This was the same solution that ended the cold war."