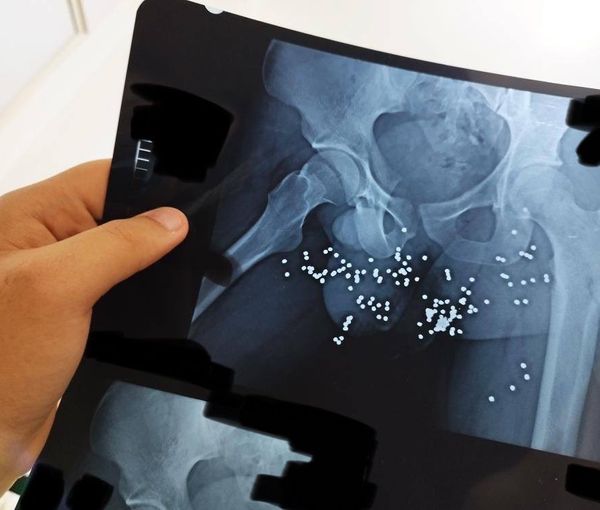 Shocking Images Of Wounded Iran Protesters Expose Regime Brutality
A Twitter account dedicated to news about protests in Iran has published a large batch of harrowing photos and videos of people shot or killed by the regime.
The activist account, '1500 Tasvir' which runs popular Instagram and Twitter accounts, started uploading the images on Saturday, asking its followers to temporarily unfollow or mute notifications of the channel if they cannot tolerate viewing such acts of brutality.
"This page is going to publish 'very painful' content to be recorded in history," the account said, adding that the photos and videos are gathered from all over the country.
A protester hit in the hands by a shotgun "birdshot"
It did not provide names, dates or locations for the photos, which mainly are from injuries that protesters sustained from shotgun pellets as well as bruises and fractures caused after being beaten by the security forces. Most of the photos and videos are so graphic that cannot be republished by Iran International.
Although some of the photos and videos were deleted by twitter, the remaining ones are enough to see a pattern of the regime's systematic targeting of faces and genitals of the demonstrators.
A protester hit in the head during protests
In addition to photos and videos of the injuries, the batch includes dozens of x-ray images and CT scans of pellets and slugs in the head, neck, chest and legs of the protestors. The Islamic Republic has killed many protesters with rubber bullets and metal pellets and blinded so many others.
An MRI image showing the pellets in the head of a protester
An x-ray image showing the genitals of a protester targeted by shotgun
The regime's security forces have been extensively using cartridges of shotshell loaded with numerous small balls or birdshots, or medium-sized buckshots as well as single large solid projectiles known as a slug to quash the nationwide protests, ignited by the death in custody of 22-year-old Mahsa Amini in September 2022.
Baton marks on the back of a protester
Late in November 2022, dozens of ophthalmologists issued a joint letter warning against the use of shotgun 'birdshots' and other projectiles by Iran's security forces that have blinded over 500 protesters since mid-September. According to them, a large number of victims were taken to medical centers hit by rubber bullets and metal pellets as well as paintball bullets in their eyes, leading to loss of eyesight in one or both eyes.
Different shotgun shells show the difference between small 'birdshot' pellets and larger projectiles
In an article on November 19, The New York Times cited ophthalmologists of three hospitals in the capital Tehran – namely Farabi, Rasoul Akram and Labbafinezhad -- and several doctors in Kordestan province, as saying that about 580 protesters suffered serious eye injuries during the regime's crackdown.
The Islamic Republic, which had been previously condemned for blinding protesters in the streets, intensified the use of guns, including military weapons against unarmed protesters. However, young Iranians who lost one or both eyes say they do not regret having protested against the regime.
A bandaged leg of an Iranian woman with the word 'freedom' written on it