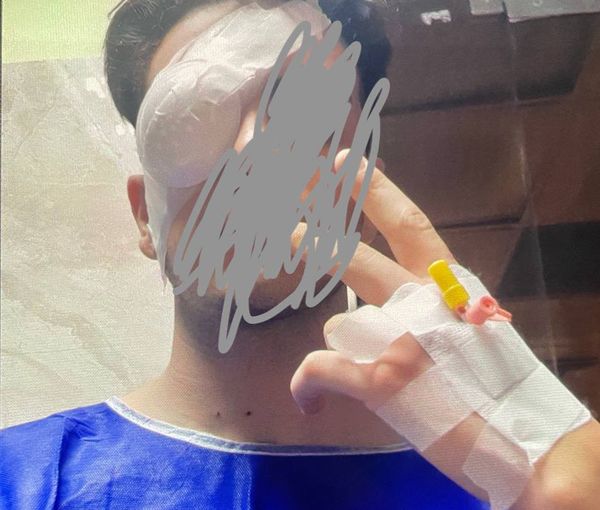 Doctors Say Iran's Use Of 'Birdshots' Blinded Hundreds Of People
Dozens of ophthalmologists have warned against the use of shotgun 'birdshots' and other projectiles by Iran's security forces that have blinded over 500 protesters since mid-September. 
In a letter issued on Friday, a group of about 140 ophthalmologists said that a large number of protesters have been taken to medical centers hit by rubber bullets and metal pellets as well as paintball bullets in their eyes, leading to the loss of eyesight in one or both eyes. 
Last week, another group of 230 ophthalmologists issued a similar letter warning about the loss of eyesight among protesters. 
The Islamic Republic, which had been previously condemned for blinding protesters in the streets and has intensified the use of guns, including military weapons against unarmed protesters. 
A combo picture of cartridges used in protests
In an article on November 19, The New York Times cited ophthalmologists of three hospitals in the capital Tehran – namely Farabi, Rasoul Akram and Labbafinezhad -- and several doctors in Kordestan province, as saying that about 580 protesters suffered serious eye injuries during the regime's crackdown. 
The full scope of mass eye injuries has been largely concealed due to the internet blackout, but medical evidence given to The Times by doctors, protesters, family members of patients and rights groups revealed that ophthalmology wards in hospitals have been overwhelmed with eye injury victims. The range of injuries included mutilated retinas, severed optic nerves and punctured irises.
The regime's security forces have been extensively using cartridges of shotshell loaded with numerous small balls or birdshots, or medium-sized buckshots as well as single large solid projectiles known as a slug to quash the protests across the country. 
Cartridges with birdshots and buckshots used against protesters by security forces
In an investigative report published on Friday, FRANCE 24 found evidence that shotgun cartridges manufactured by French-Italian manufacturer Cheddite have been widely used against Iranian protesters, an apparent violation of EU sanctions that went into place in 2012. 
The team analyzed more than 100 photos and videos showing teargas canisters, rifle bullets, paintball projectiles and cartridges from shotguns. While most of the shotgun shells photographed were made in Iran, 13 shells recovered from eight different Iranian cities bore Cheddite logos from factories in Italy and France. The company claims to be the world's largest maker of empty shotgun cartridges and firing caps, producing more than a billion empty cartridges every year.
Nicholas Marsh, a senior researcher at the Peace Research Institute Oslo (PRIO), told FRANCE 24 about Iran that "The regulation currently in force states that it is not allowed to sell shotguns of any type, ammunition designed for them and associated components. The restriction on firearms was added in an amendment on 24 March 2012. Since then, shotguns and their ammunition have been covered by the EU sanctions, and the sanctions are still in effect." The agency also quoted Amnesty International's researcher on arms control and human rights, Patrick Wilcken, as saying that "Cheddite has a responsibility to respect human rights; it should carry out human rights due diligence on its entire value chain and should cease supplies if there is a risk of goods being diverted into hands of serial human rights violators…"