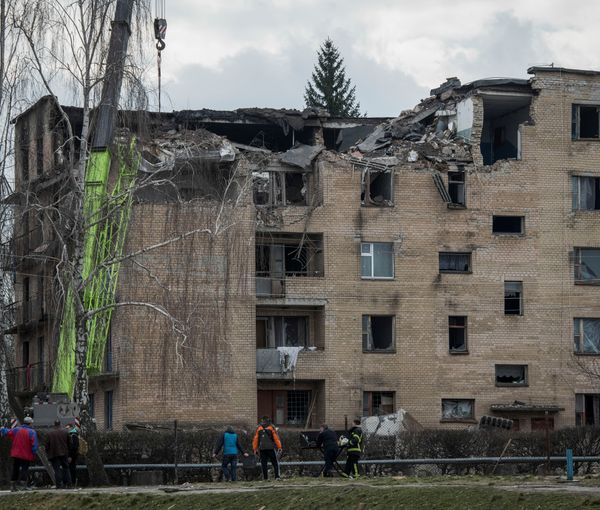 Russia Launches Swarm Of Iranian Drones At Ukraine Civilian Targets
Russia launched 21 Iranian drones against civilian targets in Ukraine Wednesday, one day after China's President Xi Jinping concluded a visit to Moscow.
At least four people were killed in the north of the country as sirens blared across the capital Kyiv and swaths of northern Ukraine overnight. The military said that it shot down 16 of the Iranian Shahed kamikaze drones but the rest got though.
Two housing blocks and an educational facility in the riverside town of Rzhyshchiv south of the capital had been partially destroyed, the State Emergency Service said on the Telegram messaging app.
"Over 20 Iranian murderous drones, plus missiles, numerous shelling incidents, and that's just in one last night of Russian terror against Ukraine," President Volodymyr Zelenskiy said on Twitter.
In an apparent reference to the Chinese leader's visit, he added: "Every time someone tries to hear the word 'peace' in Moscow, another order is given there for such criminal strikes."
Iran has supplied hundreds of killer drones to Russia since mid-2022, angering Western powers that supply air defense weapons to Ukraine to protect both military and civilian installations. Massive Russian missile and drone attacks since September aimed to destroy Ukraine's energy infrastructure to make it hard for civilians to survive the winter.
Iran's Supreme Leader Ali Khamenei completely denied Iran's involvement in the war during a speech he delivered Tuesday on the occasion of the new year Nowruz.
China proposed a peace plan for Ukraine last month, which the West has largely dismissed as vague at best, and at worst a ploy to buy time for Putin to regroup his forces.