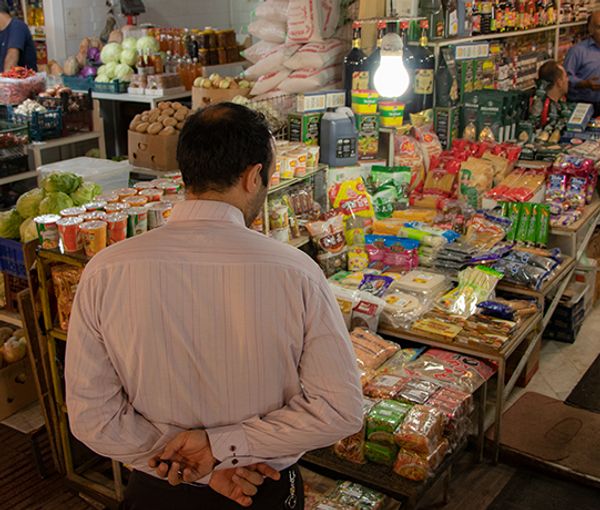 Meager Wages Keep Iran's Stability On The Edge
After a year when the rial lost about half its value and inflation surpassed 50 percent, the Islamic Republic decided to raise minimum wage by just 27 percent to about $100 to $110 a month. 
The minimum wage has increased in rials but in comparison to the dollar, which was about 260,000 rials exactly a year ago and is now about 500,000, the workers lost a lot of purchasing power. 
The minimum monthly salary rose from 41,790,000 rials to 5,308,000 rials (about $100 to $110) for the current Iranian year, which started on Tuesday, March 21. The minimum needed for an average family to simply survive is about $310 to $390 a month. 
Iran has one of the lowest minimum wages in the world, but wages were increasing from 20 years ago to about 10 years ago when the minimum wage hit a record high of about $275 a month in 2010. This was when the United Nations Security Council began imposing economic sanctions to force Tehran to roll back its nuclear program.
In January 2023, minimum wages in the EU member states ranged from $410 per month in Bulgaria to $2,500 per month in Luxembourg.
Iranian workers were earning close to $300 a month before the United States imposed sanctions in 2018, which pushed Iran's currency almost ninefold lower, creating inflation that wages have not kept up with.
The 27-percent increase, on the backdrop of rising prices -- especially foodstuff with 80 to 100 percent more expensive than a12 months ago – would likely lead to more labor protests and strikes this year, something that was already taking place regularly throughout the previous year. Rising prices and economic hardship have led to repeated labor strikes and nationwide protests since 2017, even before the imposition of US sanctions.
In his televised address early Tuesday, President Ebrahim Raisi claimed achievements for his administration, saying that sanctions on Iran failed, macroeconomic indicators improved, and thirdly, the public trust of the people in the regime increased. Several local media outlets dismissed his claims.
Iran's President Ebrahim Raisi addressing the nation on the occasion of Nowruz or the Persian New Year on March 21, 2023
In addition to round after round of US sanctions on Iran, several European countries as well as international organizations adopted resolutions or punitive measures against the Islamic Republic. Countries such as Iraq that used to be a source of foreign currency income for Iran started cooperation with the United States, making it difficult for the regime to launder its oil revenues and funnel them back. Moreover, the negotiations to revive the 2015 nuclear deal – the JCPOA – collapsed indefinitely and the global call not to restore the accord is getting stronger. 
Sanctions on the regime are actually working quite well despite the claims of more crude oil exports, as Tehran does not seem to be receiving any considerable sums in hard currencies. According to an article on Farazdaily published on Sunday, the government has signed $100 billion worth of interim investment deals in the form of memoranda of cooperation – the largest of which is a $40 billion one with Russia's Gazprom -- but no binding contracts have been signed. 
Oil Minister Mohammad Javad Oji insists that about $20 billion worth of oil and gas contracts were finalized in the previous Iranian year, but the catch is that most of the finalized contracts were signed with Iranian companies, which means no foreign investment and transfer of technology will materialize, the article added. There is no official information about any foreign firm that has agreed to invest in Iran and jeopardize relations with the US. 
Iran's centrally controlled economy is inefficient and not conducive to foreign investments, with high reliance on oil exports. With no legal and simple way to access its revenues and frozen assets, the Islamic Republic's economic indicators are also in disarray, contrary to what President Raisi claimed.
According to a recent report, Iran's misery index rose from 19.3 percent in 2018 to 49.4 percent in 2022, with estimates saying that the figure hit 56 percent by March 2023, which is the highest level in the past 27 years. The index is an economic indicator to determine how the average citizen is doing economically and is calculated by adding the seasonally adjusted unemployment rate to the annual inflation rate.
In the previous Iranian year, the country saw its boldest uprising against the Islamic Republic since its establishment in 1979. The antiregime protests that started in September 2022 flare up occasionally and could explode again under financial pressures.