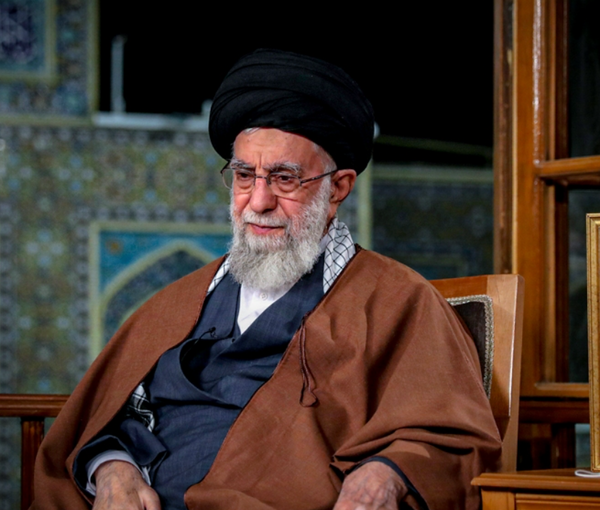 Iran's Khamenei Silent On Foreign Policy In Nowruz Message
In his Nowruz New Year message to the nation Monday, Iran's Supreme Leader Ali Khamenei did not mention foreign relations and focused on economic difficulties.
He acknowledged that there are "political problems" but did not directly mention six months of antigovernment protests, arguing that the economic problems the country faces are the main reason for all other problems.
Despite putting emphasis on the economic crisis, mainly because of its confrontational foreign policy, he did not mention the stalled nuclear negotiations with the West, nor the agreement reached earlier this month to restore ties with regional rival Saudi Arabia – a point that he could have mentioned as a positive accomplishment amid a grim reality in the country.
A positive reference to the deal with Riyadh would have gone a long way to reinforce statements by other officials that Iran is bent on improving relations with regional Arab countries and perhaps ending the war in Yemen, where Tehran has rendered military support to Houthis fighting a Saudi coalition.
Khamenei has been a steadfast opponent of the Saudi government and has labelled the country a lackey of the United States, an epitome of "corruption", meaning un-Islamic and an enemy of Muslim unity. His followers have equated Saudi Arabia with "Zionists", the worst possible insult in the regime's lexicon.
Having decided to restore diplomatic relations with Riyadh, Khamenei is perhaps finding it hard to walk back his long-held views. The decision to restore relations was made amid international isolation, economic crisis and the threat of an Israeli attack on its nuclear installations.
However, it was clear that that the decision was his, since he sent his trusted man in the national security council, Ali Shamkhani, to Beijing to sign the agreement on March 10.
Speaking about multiple difficulties Iran faces, Khamenei tried to indirectly imply that the population has no political demands and all problems stem from a weak economy. "The most important problem for the Iranian nation [in the past year] was the problem of the country's economy, which impacts people's livelihood," he said.
However, months of nationwide protests showed that a significant part of the population, especially the youth, reject the Islamic Republic regime altogether and want a secular, democratic political system.
Although he acknowledged the seriousness of economic problems, he did not mention sanctions imposed by the United States, which he and his subordinates have often cited as the reason for a 50-percent annual inflation rate, high unemployment and increasing poverty. It seemed that Khamenei simply decided not to speak about any foreign policy issue.
Having chosen to focus on economic problems, Khamenei tried to "put it in perspective" as he put it.
"Economic difficulties are not unique to us…all countries have some sort of peculiar economic problem, even rich countries," he said, and went a step further claiming that some "are in much worse situation than we are."
Iran's national currency, the rial, has fallen by more than 50 percent since September, pushing food prices higher between 70-100 percent, on top of similar price hikes in the past five years since the imposition of US sanctions. Tens of millions of working and even middle class people have fallen into poverty, not able to afford basic necessities.
The 83-year-old authoritarian ruler proclaimed the new year as the year to fix the economy, increase production and control inflation, slogans often repeated in the past decade.