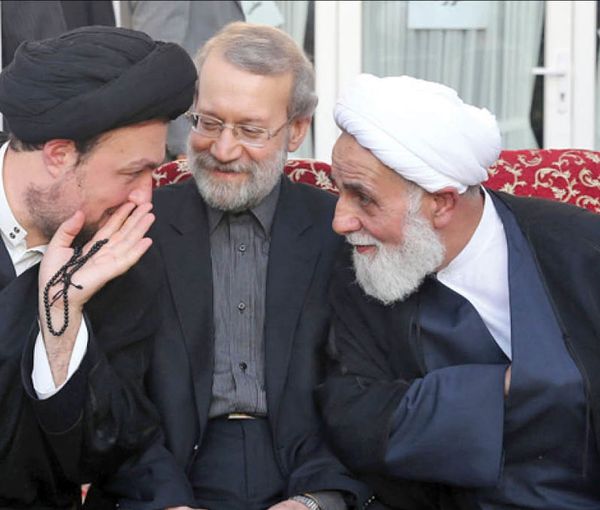 Politicians In Iran Debate The Idea Of A 'Council Of Moderates'
The leader of Iran's centrist Executives of Construction Party has welcomed the idea of a "council of moderate figures" to inject rationality into Iranian politics.
Reformist circles have suggested five top political figures as possible members of the proposed council, as a vehicle to organize forces opposed to the ruling hardliners.
However, the party's leader Hossein Marashi while welcoming the proposal said that forming the council is not possible with the political figures mentioned by others.
Marashi argued that former reformist President Mohammad Khatami, former parliamentary speakers Ali Larijani and Ali Akbar Nateq-Nouri, former president Hassan Rouhani and Ayatollah Ruhollah Khomeini's grandson Hassan Khomeini are not capable of taking the lead to form a council of moderates.
He avoided mentioning his reasons for dismissing the heavyweights, because after all, they are considered fellow reformists.
Former president Akbar Hashemi Rafsanjani leading a prayer with Ayatollah Ruhollah Khomeini's grandson Hassan Khomeini (left), former presidents Hassan Rouhani (2nd left) and Mohammad Khatami (center), former parliament speaker Ali Akbar Nateq-Nouri (2nd right) and former vice president Eshaq Jahangiri (right) standing behind him
"A good idea does not necessarily mean that it can happen," said Marashi, adding that many other Iranians also want a moderate government in Iran, but the country's situation is such that moderates cannot have a voice while an all-conservative government is running the affairs of the state. Marashi was likely alluding to the disqualification of reform minded and moderate candidates in the previous parliamentary and presidential elections in 2020 and 2021.
However, he added that the Executives of Construction Party welcomes the idea as it can bring about a balance on the Iranian political scene. He said omitting the moderates altogether is neither possible nor desirable.
The idea of a political comeback by Iran's moderates was first put forward in February when it was said that a moderate council would form a shadow government. However, even then, it was clear for political analysts that under the circumstances it was unlikely that Supreme Leader Ali Khamenei and radical conservatives around him would ever allow the moderates to become politically active again.
Former lawmaker Kamaleddin Pirmoazen
However, as the Iranian government has become weaker after months of protests since September 2022, some politicians including former lawmaker Kamaleddin Pirmoazen have come to the conclusion that this is the right time for Iran's moderates to make a comeback and compete with ultraconservative Paydari Party in the next parliamentary election in early 2024.
Pirmoazen told Ensaf News website that a council of moderates has already been formed unofficially. He argued that the rivalry between the moderates and radicals in Iran will be a confrontation between the advocates of totalitarianism and the supporters of people's rule. He added that "The ruling Paydari Party wants political power only to serve the interests of one small group of people in Iran rather than thinking of bringing about an improvement in people's livelihood, and eliminating poverty.
The politician also argued that the radicals have made the system so rigid it does not even allow traditional conservatives to be politically active and influential. However, the country's current situation, in which over 60 million people cannot survive without cash handouts, calls for political participation of others who wish to improve the situation. A large part of conservatives have now realized how badly the ultraconservative government has damaged the country.
Ultraconservative former lawmaker Hossein Naqavi Hosseini
On the other hand, an ultraconservative former lawmaker, Hossein Naqavi Hosseini said some of some of those named as possible members of the Council of Moderates, are not even moderate! Naqavi added, "Among the names you mentioned, only Ali Larijani could be characterized as a moderate. Others, have at times taken radical stances that does not make them moderate."
Pointing out that during recent protests Iranians shunned both reformists and conservatives, Naqavi added that "during the past three decades, ultraconservatives (Presidents Ahamdinejad and Raisi) and reformists (Presidents Khatami and Rouhani) had equal chances to run the country, but none of them were successful. Perhaps that is why some disillusioned politicians are planning to introduce a third group under the name of moderates."