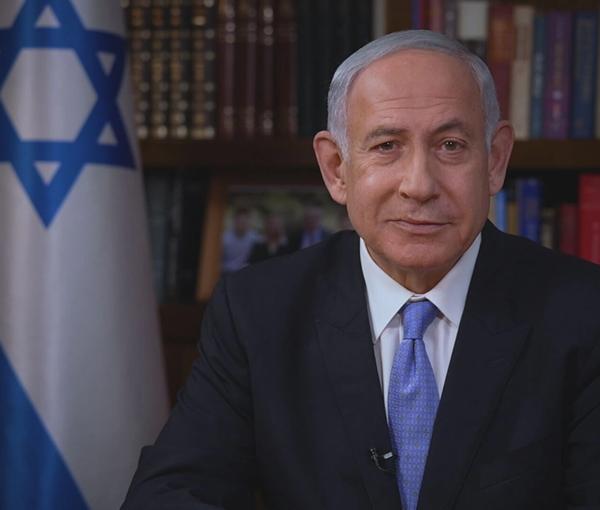 Exclusive -Netanyahu Warns He Will Not Tolerate A 'Threshold Iran'
Israeli Prime Minister Benjamin Netanyahu told Iran International that Tehran is "dangerously moving forward" in its nuclear program and close to "red lines."
In an interview on Wednesday, the Israeli leader said that he returned to the government primarily to make sure that Iran cannot become a nuclear "threshold power."
The issue of Iranian regime's nuclear program is "the quintessential heart of my foreign policy," he said, adding, "I came back into government precisely to prevent Iran from becoming a nuclear state," vowing to do "everything possible to prevent it."
Netanyahu indirectly referred to recent confirmation by the International Atomic Energy Agency (IAEA) that it found uranium particles enriched to 84-percent purity, which is very close to the 90-percent enriched fissile material needed for nuclear bombs. He said that Israel will not tolerate a "nuclear threshold" Iran.
This can be seen as a threat to Tehran not to enrich uranium to 90 percent, which can put the country on the threshold of manufacturing a bomb.
He also emphasized that the Islamic Republic wants nuclear weapons "to buy immunity" both in its mischiefs against the world and also as protection from the Iranian people who reject its legitimacy.
US and Israeli air forces seen in Juniper Oak joint military drills in January 2023
However, the Israeli premier expressed optimism that the West has become more cognizant of the dangers the Iranian regime poses to the world, not just to its own people and Israel. He attributed this "miraculous achievement" to the "courage of the Iranian people" who through their recent protests showed "the true nature" of the regime to the world.
"There is a moral imperative and a security imperative," to stand up to the regime and take action, including "crippling" sanctions on the Revolutionary Guard (IRGC) and a "credible" military option to send a clear message to Tehran.
In recent months, the Biden administration has also warned that it will not tolerate a nuclear Iran and has boosted military coordination with Israel.
Regarding possible European sanctions on IRGC, Netanyahu said the "terrorist organization" has self-designated itself and "you don't need special intelligence" to know that they are a terror group.
Netanyahu's 25-minute interview was broadcast by Iran International TV into Iran Thursday evening local time with Persian dubbing. Netanyahu was asked if he has a message for Iranians and he said, "We stand with you, I stand with you, most of the world stands with you…don't lose heart, be strong."
He also praised Iran's civilization and the talents and abilities of its people to achieve successes once the Islamic regime is gone. He voiced certainty that Israel and a free Iran can have solid relations.
He repeated a few times that the Islamic regime is "the common enemy" of the Iranian people, Israel and the world, arguing that the protesters "have unmasked" the regime, which is terrified.
"For such a regime to have nuclear weapons when it is committed openly to the destruction of not merely my own country but to the subjugation of the world…and chants death to Israel, death to America and everyone else in between," is a dangerous proposition, Netanyahu said.
Addressing Western leaders he said, "History will change if Iran gets nuclear weapons." If Iran is not stopped the world "will face a war and potentially a horrible nuclear war."
He was asked if he could be effective in implementing his policies toward Iran's nuclear program when he faces political challenges at home. "I never lose focus on the danger from the Islamic regime – never," Netanyahu, whose policies and coalition government face strong popular opposition, replied.
Asked if we are close to a military conflict, the Israeli prime minister said, "It depends on Iran." But he took issue with a recent remark by the IAEA Director General Rafael Grossi who during his recent trip to Tehran had said that any attack on any nuclear facility violates international law.
"I think he said something totally wrong and inappropriate…There is nothing more legitimate than preventing a regime that openly calls for your destruction from having the weapons to achieve that goal."