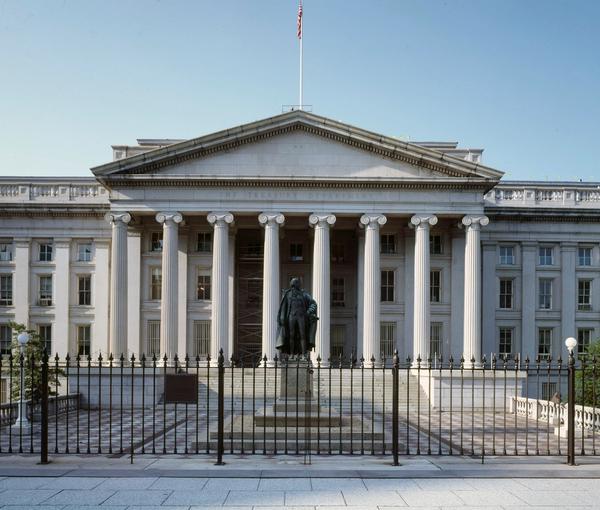 Islamic Republic's Shadow Banking, UAV Networks Sanctioned By US
The United States has sanctioned a network of companies over helping Iran evade sanctions as well as the regime's international UAV procurement network. 
US Department of the Treasury's Office of Foreign Assets Control (OFAC) Thursday announced sanctions on 39 entities, including many based in the United Arab Emirates and Hong Kong, for helping Iran evading sanctions as well as designating a network of five companies and one individual for supporting Iran's unmanned aerial vehicle (UAV) procurement efforts.
The Biden administration has accelerated its sanctions campaign against Iranian individuals and entities since September for three reasons. First, nuclear talks lasting 18 months reached a deadlock last September, exactly when popular protests erupted in Iran and were met with deadly force by the government. In addition to these factors, Russia began using killer drones provided by Iran, which alarmed the United States and its European allies.
Describing Thursday's sanctioned entities as a "shadow banking" network that moves billions of dollars, Washington said the companies facilitate the Islamic Republic's access to the global financial system. It added that those targeted had granted companies previously slapped with Iran-related sanctions, such as Persian Gulf Petrochemical Industry Commercial Co (PGPICC) -- which was sanctioned for aiding Revolutionary Guard's Khatam al Anbiya construction base in 2019 -- and Triliance Petrochemical Co Ltd, access to the international financial system and helped them hide their trade with foreign customers. 
In 2022 alone, PGPICC marketed millions of dollars of high-density polyethylene (HDPE) produced by Mehr Petrochemical Company (Mehr) to third-party buyers for delivery to Turkey and Asia. UAE-based Bavi General Trading CO L.L.C (Bavi General) and Iran-based Kambiz Nabizadeh and Partners Exchange (Nabizadeh Exchange) play a key intermediary role in these transactions. Late last year, a $170 million apparent embezzlement case left Mehr Petrochemicals, which produces the highest-grade polyethylene in the Middle East, in serious trouble.
"Iran cultivates complex sanctions evasion networks where foreign buyers, exchange houses, and dozens of front companies cooperatively help sanctioned Iranian companies to continue to trade," said Deputy Treasury Secretary Wally Adeyemo, adding that the new measures showed the US "ability to disrupt Iran's foreign financial networks, which it uses to launder funds."
Among those designated on Thursday were two Turkey-based entities, as well as Iran-based Mehr Petrochemical Company. Brian O'Toole, a former Treasury Department official, said Thursday's action would put a dent in Iran's ability to keep moving oil and get paid for it. "This is a pretty big deal, because this kind of thing should have an impact on what Iran is able to sell," he said.
The Treasury Department's top sanctions official, Brian Nelson, traveled to the UAE earlier this year, where he planned to warn officials about "poor sanctions compliance", a department spokesperson said at the time.
Under Secretary of the Treasury for Terrorism and Financial Intelligence Brian E. Nelson
Also on Thursday, OFAC designated entities for supporting Iran's UAV procurement efforts. This People's Republic of China-based network is responsible for the sale and shipment of thousands of aerospace components, including components that can be used for UAV applications, to the Iran Aircraft Manufacturing Industrial Company (HESA), it said. HESA – designated on September 17, 2008, by the US for being owned or controlled by Iran's Ministry of Defense and Armed Forces Logistics (MODAFL) and for having provided support to the IRGC -- has been involved in the production of the Shahed-136 UAV model that the Islamic Republic has used to attack oil tankers and has exported to Russia. 
"Iran is directly implicated in the Ukrainian civilian casualties that result from Russia's use of Iranian UAVs in Ukraine," said Under Secretary of the Treasury for Terrorism and Financial Intelligence Brian E. Nelson. "The United States will continue to target global Iranian procurement networks that supply Russia with deadly UAVs for use in its illegal war in Ukraine."