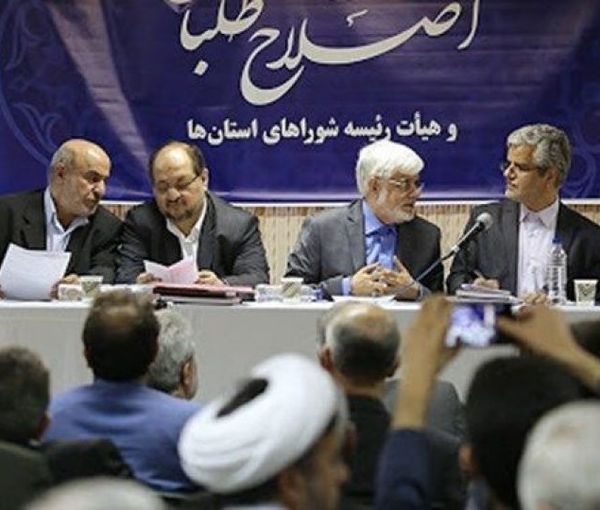 Iran Reformists Wonder About Role As Protesters Want Total Change
Prominent Iranian reformist figure Hossein Nourani-Nejad says Iran's umbrella Reform Front is not powerful enough to engage in influential action and needs overhaul.
Nourani-Nejad wrote in a commentary in the reformist daily Eteamadon Wednesday that a number of parallel institutions should be created to enhance the performance and dynamism of the Reform Front.
The politician's comment came one day after the chairman of the Reform Front Behzad Nabavi, nicknamed by Iran's political activists as "the old guerrilla" announced his resignation.
Nourani-Nejad wrote that the need for democracy in Iran demands a new coalition. "This comes while the front is expected to start a new round of activity, but no one expects any particular change in its approach." He argued that the Reform Front does not show any inclination other than advocating minor reforms, calling for democratization, and representing active reformist parties.
The politician was probably referring to the rigidity of the structure and nature of the grouping which is often criticized to be operating like a clan rather than a political organization. One of the flaws in this system's traditional structure is that former President Mohammad Khatami is believed to be its leader while he has always rejected or ignored the suggestion.
Prominent Iranian reformist figure Hossein Nourani-Nejad
Protests since September have shown that a significant and younger segment of Iranians no longer believe that the Islamic Republic can be reformed and they demand a secular and democratic political system.
The reform front lost its popularity mainly because of the performance of its members in the previous parliament (2016-2020). Ironically, the Reform Front's chairman at the time, Mohammad Reza Aref, kept silent in the parliament for four years! In the subsequent election the reformists won less than 3 percent of the votes partly because of his inaction.
Nourani-Nejad said that keeping the Front as it is will further weaken it or lead to fragmentation within the front. Meanwhile, he called for a more broad-based alliance among pro-reform groups and parties as a solution that might revive the grouping.
Reformist daily Arman-e Emrooz carried a commentary Wednesday about reactions to Reform Front chief's resignation. Many believe Nabavi's resignation was motivated by reasons that stemmed from within the front, although Nabavi himself has said: "My two year term of office as chairman has ended so I no longer have any position. I am also old and ailing and unable to contribute."
Some members however believe that the resignation is a reaction to radical positions adopted by some other reformists. Reformist activist Fatemeh Rakei said Nabavi has resigned probably because popular demands have become more intense and reformists should come up with a strategy to position themselves in the changing political environment.
Nabavi, born in 1942, a senior member of the leftist Islamic Revolution's Mujahedin Organization (IRMO) has held positions such as deputy prime minister and Minister of Industry in the 1980s. He was one of reformists who was arrested and reportedly tortured during the post-election unrest in 2009. During the recent protests Nabavi was one of the first politicians who took a clear stance and "called for the continuation of the reform movement but added that reformists cannot join the protests in the streets."
Political activist Ahmad Hakimipour
Another political activist Ahmad Hakimipour told Arman that many reformists had already decided that they needed essential changes and reshuffling. It is not clear where the school of thought that the Islamic Republic can be reformed is headed. He added that the reforms, as we know it, is not attractive for the younger generation who took to the streets during the past months.
Mostafa Rasteh Moghaddam, another reformist figure welcomed Nabavi's resignation as an event that can lead to some kind of rotation of elites and put an end to the Front's rigid structure and approaches.