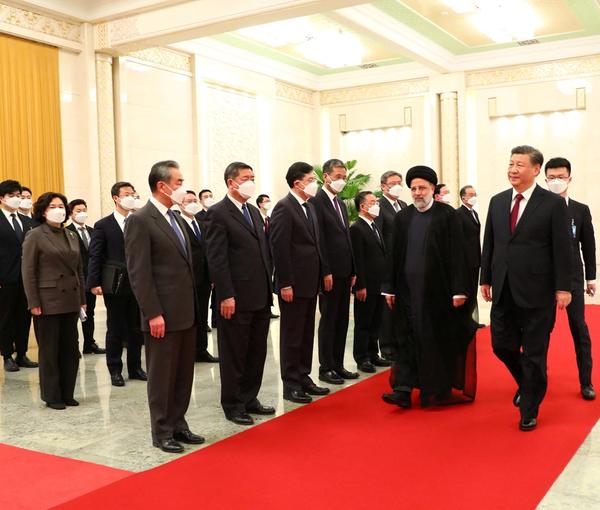 Politicians, Analysts Warn Against Iran's Reliance On Russia And China
As Iran moves closer to Russia and China, leading Iranian lawmakers and pundits have warned the government against over-reliance on Moscow and Beijing.
Speaking to Shafaqna, conservative lawmaker Mostafa Hosseini Ghotbabadi said that while Iran publicly claims to have a "neither East nor West" approach to foreign policy, it is going too far towards relying on the East at the expense of total alienation from the West.
He said Russia's war against Ukraine and conflicts between China and Taiwan are calculated games engineered by the world's biggest powers over securing their share of the world's resources, luring Iran and its neighbors into the game and distracting Iran from its priorities.
He claimed that big powers use Iran to scare the Persian Gulf states and sell weapons to them and plunder their resources.
Iran, ruled by Ali Khamenei, a staunch anti-West cleric has drawn closer to Russia in recent months, supplying drones and possibly other weapons for Moscow's war against Ukraine. It has also been trying to expand economic ties with China, but Beijing has been cautious in the light of American economic sanctions on Iran.
Foreign policy expert, Diako Hosseini, writing in reformist daily Shargh, said "Iran should not fall victim to the rivalry between China and the United States", the world in "a transitional period marked by instability … [which is] shaping a new international order". The revival of Russia after the collapse of Communism and China's economic success, he says, has jeopardized the United States' vision to become a singular world power.
"The United States is not merely concerned about China's growth, it is also worried about China's expanding ties with the world," he said, including its ties with Iran, which has a key strategic location between East and West.
Putting restrictions on Iran also helps curb China's rise, Hosseini believes, the United States doing its best to prevent Iran from becoming part of the Russia-China axis. He said: "America's current plan is to weaken Iran from within and isolate it in the international community. This can be part of a plan to once again create a unipolar world order."
The new alliance of China and Iran could ultimately backfire, he warned, as it has for Russia. In the long run, Iran will not get concessions from America while its relations warm up with China and Russia and Iran must keep the doors of diplomacy with the West open.
Recently, prominent reformist figure Mostafa Hashemi-Taba, also writing in Shargh about Raisi's visit to China, claimed that Iran is not capable of implementing an economic cooperation agreement with China as it does not have the administrative structure and manpower.
He also pointed out that the joint statement by China and Iran which was issued at the end of Raisi's visit is indicative of Iran's de facto recognition of Israel as for the first time in an official document Iran has used the word Israel rather than its usual jargon "the Zionist regime".
Hashemi-Taba also pointed out that Iran's dependency on China has the sole aim of attracting Chinese investment, given the dire economic crisis resulting from sanctions and the impasse on the JCPOA.
Meanwhile, In the United States, the Biden administration and European powers have also expressed deep concern over Iran's growing military ties with Russia. They have said that a resumption of nuclear talks with Tehran is contingent on its change of policy in supplying weapons to Moscow.